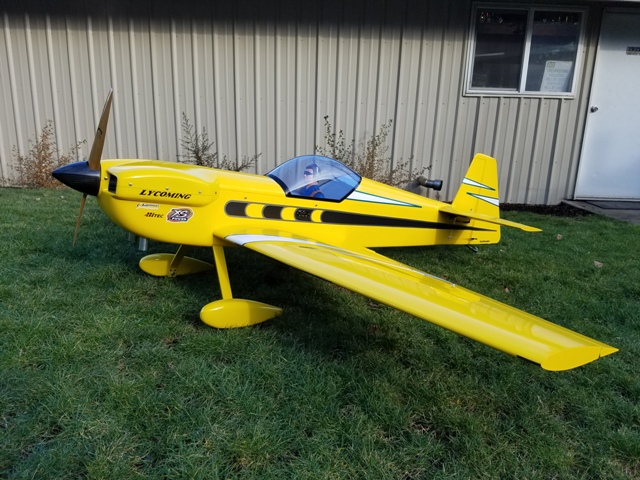 January 25, 2017

I was waiting on a new bit for my die grinder to do the finish work on the exhaust openings. I got that touched up today and used clear hinge tape to seal the hinge gaps. I did one more break in run on the engine and then managed to get a maiden flight before I ran out of daylight! Flies AWESOME, one click of right rudder and three clicks of down elevator and it flies straight and true at wide open throttle, and sticks free when inverted. I can't wait to get it back in the air!
January 24, 2017
Dennis, quite some time ago I contacted you about an old kit of yours that I had purchased, now almost two years and just over two hundred and twenty hours later I have finished it!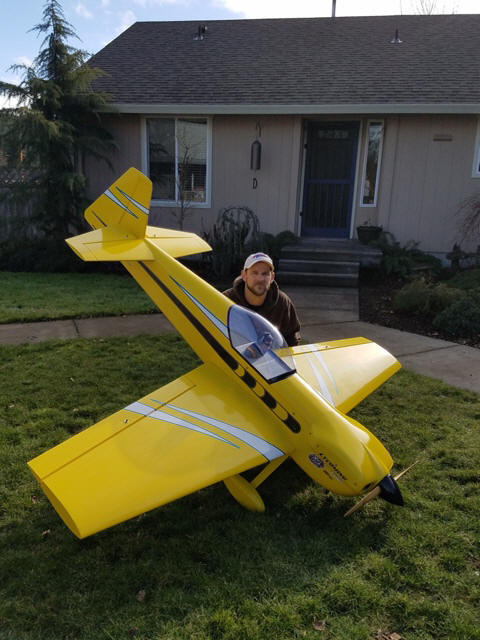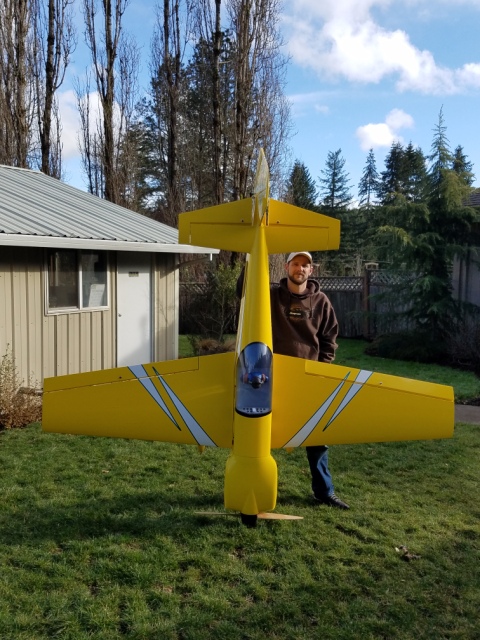 I finished it out with a DA 100 for power, a Spectrum 9110, two 2700mah batteries, Hi-tech 7955's and upgraded to a carbon wing tube, and tail wheel assembly. I can't wait to get it in the air! I have attached a couple photos for you, hope you enjoy them!

Doug
---
August 19, 2015
Hi Dennis,
Just thought I would share some photos with you of my Carden Cap 232 I have. I picked it up used from a flying buddy who had rebuilt it after a bad crash. He was unhappy with it after the rebuild I think as he had it on the heavy side, it was 20lbs.
I got ahold of it and put a dle55 on it, cut some weight here and there and I have it down to 18lbs 3oz. Hopefully I will maiden it this coming Sunday.
Christopher Barnes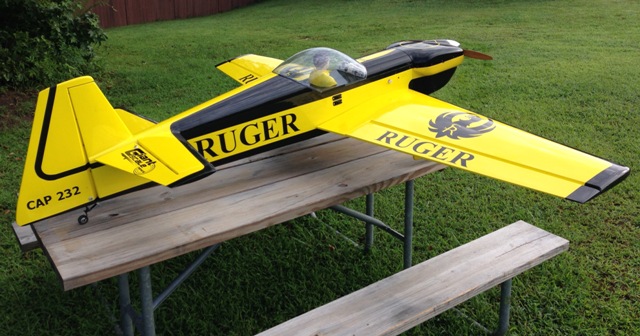 ---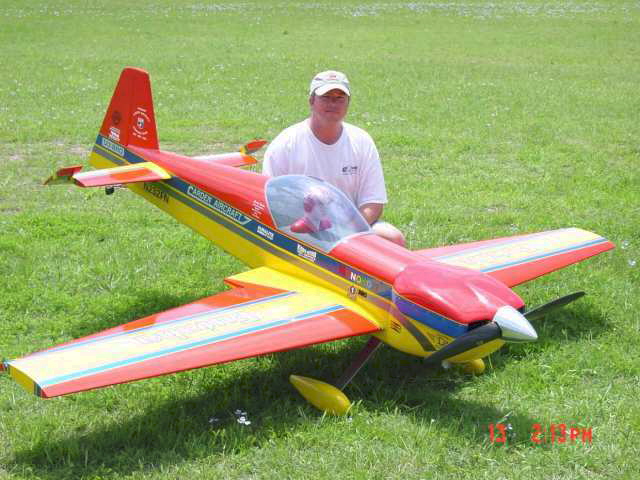 February 21, 2012
In 2002 Bill Higgins from San Antonio, TX sent you a testimonial on him acquiring Frank Noll Jr's Carden Cap which Frank flew in the 1999 TOC. I ended up with the plane in 2004 and flew it some then. I traded it to a friend in 2005.
Just a few days ago I got it back. It is now approximately 13 years old and still looks great. Here are some pics from back then and now.
I am not going to keep it but wanted you to know a little recent history.
---
November 10, 2009
Fairly new to the Carden family, so thought I would send some pics of my cap 40% cap 232.
I think it's a very unique scheme so I'm sending these pics.
p.s. flies even better!
Brad Blizzard Louisville, KY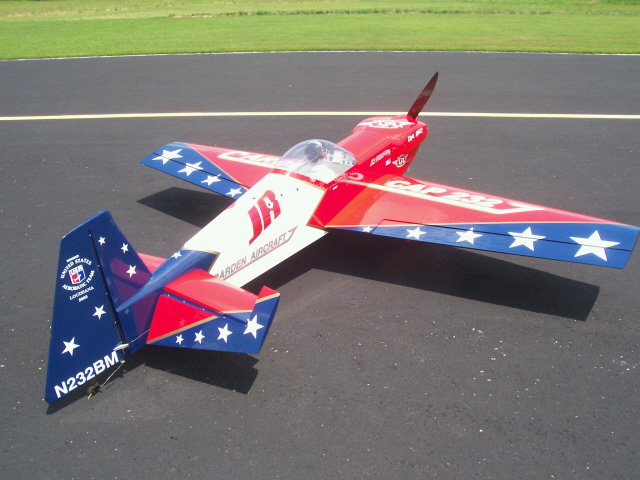 ---
May 8, 2009
Dennis and Caroline

Ugene "Bugs" Picket is shown with his sort of new 30% Carden Cap 232. It has a ZDZ 80 with Futaba gear and an all new exterior for the 2009 Season.
The plane has been flown before and encountered some hard days under a different owner. Bugs adopted it and sponsored a complete rebuild of the plane. All the damage was repaired and the aerodynamics were set straight before putting on the Auburn University colors and all new gear inside the plane.

As soon as the weather clears we will be flying it in Alex City, AL and it will join other Carden planes that are in the club. One of the marks of a great design is the ability to take some hard days at the field and survive.
Your designs not only survive a lot of abuse, but are easy for me to get in the shop and rebuild even if they are heavily damaged. As a builder, I value a plane that flies with the best in the world and can be kept in the air for many, many years.
There is cost and then there is value -- this plane has value that I do not see very often. Thanks for your fine work and for helping with the restoration of this one.

Brian Deis
dream-rc-airplanes.com
---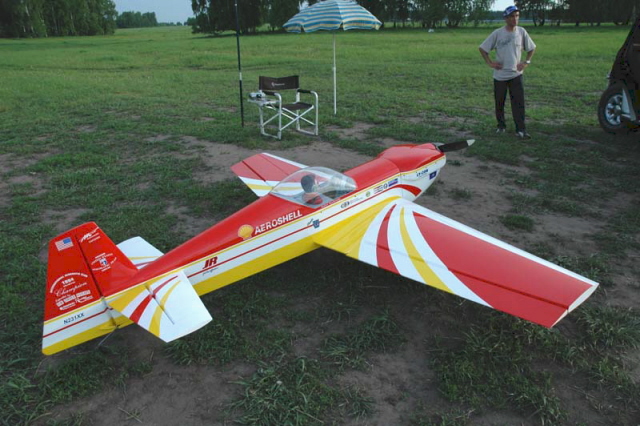 Hi Dennis and Caroline,
I have finished Carden CAP-232 40 %!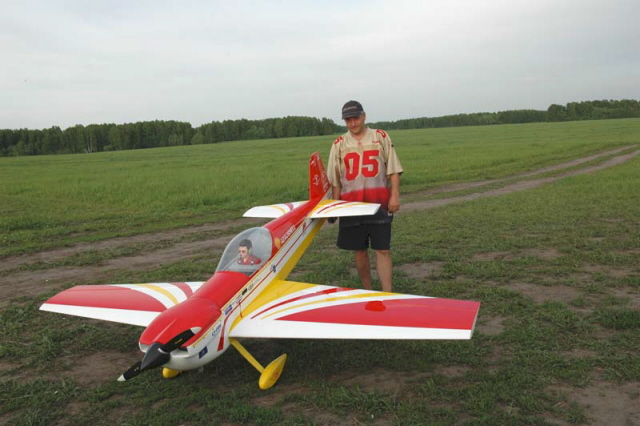 Photo of mine CAP-232 40 %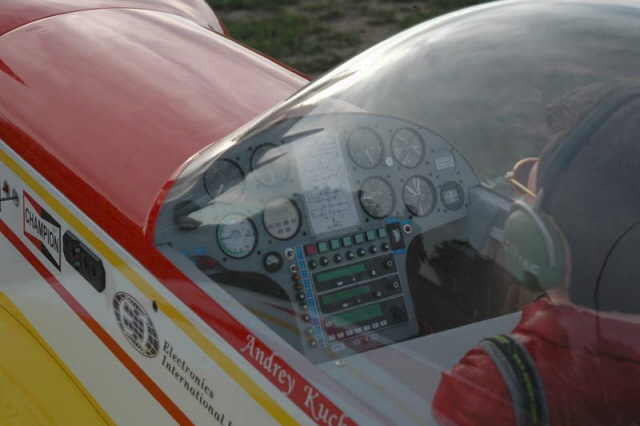 The excellent plane. Excellent flight.
Thank you!
Russia city Novosibirsk
Best regards.
Andrey.

---
---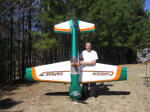 February 20, 2007
Dennis and Caroline,
Your advice on the plane yesterday was very helpful. I added a small bit of weight to the nose and got it to balance perfect. Rolled inverted on a 45 and it pulled to the canopy ever so slightly. After we got off the phone I flew the plane on a 45 and it came over all by itself with hands off the stick. Kind of scary huh. It felt tail heavy and sensitive on the elevators but I didn't think it was that far off.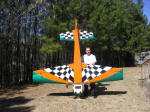 So we fixed it, balanced it in Macs big shop (with no wind) and it came out perfect. Now my 45's are sweet and straight with no work hardly and my down lines are perfectly straight down. Before they would start straight down and pitch up towards the canopy. I got about 5 flights on it yesterday and the last flight was the most pleasing of them all. The plane just flew perfect. I tried some harriers with it and they were rock solid. Hovered it for just a few seconds (new motor) and I could already tell this thing is going to be so easy to hover.
I will be going out more this weekend with it to get used to it a little bit more. This Cap is going to probably be my favorite bird. Cant wait to get the motor broke in so I can really start some good and fun 3D maneuvers with it. I have about 1 3/4 gallons through the motor and every tank the plane gets better and better. Here are some pictures of the plane.

Chris Campos
---
---
February 11, 2007
Dennis and Caroline,

Here's proof, if I can build this plane, ANYONE can. After 5 years of off and on building
the Cap 232's done.
I've built smaller planes but this was my first 40%er and with a DA 150
and about a million dollars in servo's (11x 8611a's) and SWB everything.
Now do you think I was going to test fly it? no way in he**, I had a friend, Damon Parker test fly it.
He did give me the sticks, for a second, and the last thing I heard was "I'll take that". Of course it was a rainy, windy day but it flew beautifully.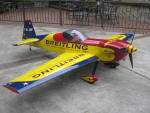 So thanks for ALL the help and being patience with some of my lame questions. I'm committed to flying it myself in the Spring.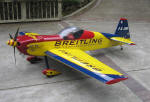 Ben Leone
---
---
August 24, 2005
Dennis and Caroline,

Just wanted to take a second to say thanks to the both of you, you were both extremely helpful in getting me straightened out on the CAP 232 I purchased used. Most companies would not go to the length you did to help someone that didn't purchase the product directly from them and it is greatly appreciated.

We finally got to test fly the Cap yesterday and all I can say is WOW!!!!! For years all I had heard was if you want the best flying plane, purchase a Carden and you'll have one. Well I was not disappointed, neither were any of the others that flew it.

On the initial take off I was scared to death, not knowing what to expect but it was like a huge trainer. Smooth as silk and very light on the sticks, 3 clicks of left aileron trim and she was perfect. We flew it all day, testing the limits and abilities of the aircraft.



We did everything from your basic IMAC stuff to mild 3D stuff, CR Price even pulled off a few of his "Heart Attacks" with it, and the plane handled each with ease and precision.
I have flow numerous planes in the 25% to 35% size, and none have come close to the comfort zone I got from this plane. I can never express in words the joy it is to fly.

Thanks for everything

Mark W Ramsey
Your newest dedicated Carden Pilot

---
---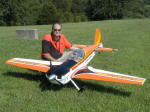 August 24, 2005
Hi, Went to the Wings Over Music City Fly-in near Nashville on Saturday. Gave lots of demo flights with the Cuda; lots of interest. Three different guys flew my Cuda and loved the way it flew. Hopefully, you will get an order or two out of it. Sure was hot on Saturday. Also, attached is a picture of my Cap that I finally got finished. It still flies great.
Talk to you soon. Terry Boston
---
---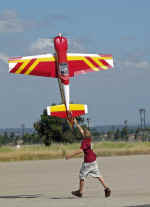 August 24, 2005

Dear Dennis and Caroline,

Here are some pics of my Carden Cap 40%....

Kenneth Adams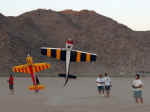 Kenneth Adams
Kenneth Adams
---
---
May 15, 2005
Dear Dennis and Caroline,
Here she is! My second Carden CAP232! Guess what it flew just as good as the first one, so do us builders a big favor and that is don't change a thing.
It came off the runway with absolutely no corrections on elevator and
aileron. Attached are some pictures of the airborne camera pod which can be remotely controlled and turned 180 degrees.
So far I am still flying it with the pilot and not the camera for the camera belongs to Jonnie. She wants to make sure everything is just right before taking her camera airborne. The camera has a 1 gig card and will hold at least 13 minutes of broadcast quality video.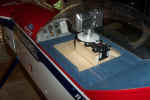 In case you are wondering about the mustang theme, we have a mustang convertible and thought it would be a good graphic scheme to use.
No MonoKote, painted like the first one with base coat/ clear coat, using DA100 and B&B smoke system controlled by JR10X.
Thanks for a great airplane........
Art Azlin
---
---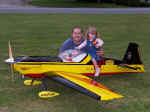 May 15, 2005
Dear Dennis and Caroline,
I don't know how to put into words Dennis how much it meant to me you coming out to talk to me about my plane and the pointers on keeping the Cap in top form.
That type of personal customer care is not seen all that much these days. It seems that this plane has brought me more joy from the way it flies, to the guys responsible for me getting it.

It was originally purchased by Ivan Gutierrez, and then Jim Julian aka "the professor" gave me a call for I will always be grateful.
It seems to be true about your happiness is a direct reflect of the friends you surround your self around. It's powered by a 3W-150 and I use a JR Radio. The pics include my 2 year old daughter Madyson and a shot at the 2005 Nall. Thanks for a great plane.
Forever a Carden Customer,
John Welcome
---
---
May 15, 2005
Caroline,
Here are a few pics of my latest creation. I can't wait to fly it.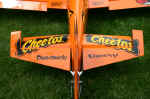 Thanks, Bryan Zang
---
---
December 4, 2004
Caroline,
Here are the pictures taken recently of my Carden CAP232 35% with DA100 and the B&B Super Smoke system and you can see I am having fun.
The CAP232 gives me more pleasure flying than any I have ever built. Check out the smoke rings in one of the shots!!!!
Won 1st Place in Scale, Gas Powered at the Rocket City Radio Controllers Big Bird Fly in, July 9 - 10, 2004.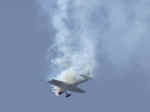 Thanks, Art Azlin
---
---
August 13, 2004
Caroline & Dennis,
Enclosed is pictures of my new 35% Carden CAP-232. This airplane is
completed in a modified Air Jamaica color scheme using the same colors
and logo from the Air Jamaica airline. The Rasta pilot (complete with
dreadlocks) wears a shirt with the Air Jamaica logo, amazing just like
the one I wear when I fly it. The power is a ZDZ-80 single.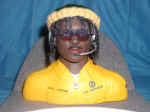 And yes, it's plenty of power for this airplane. It hovers, and does everything I can do and more. I flew this airplane last Sunday for the first time and it flies GREAT! I knew it would. Thanks for a great product.

Calvin Mitchell
Milan Flyers, Ann Arbor, Michigan
---
---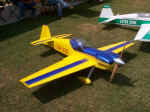 August 13, 2004
Caroline & Dennis,

Finally got to test fly my new 30% Cap today. I had to land dead stick after only two minutes of flight due to the engine loading up (too much prop on 4.2), but that two minutes was a pure joy. No trim was needed and the Cap was very stable even after the flame out. Will re-prop for next weekend and shoot for a four minute flight!
I always wanted a Cap and decided to try the Carden 30% first. 35% Cap will be next If all goes well with this one.
That's my 35% Extra beside my Cap.

Thanks for the great customer support as always ,Carroll Plunk
---
---
May 08, 2003

Here are some pics of my 30% Cap 232
3W-60K, Mejlik 3-blade 22/10 @ 6700 rpm
KS 8600 canister from www.desertaircraft.com
Paragon 4 " spinner with lightened back plate
Futaba PCM receiver, 9206 servos 6 volt on all surfaces
Rocket City hardware, H9 titanium links
H9 pilot & dash, Monokote, HOUSE of KOLOR basecoat / clearcoat
www.wingbags-by-caroline.com Carden Canopy helmet
And to keep the Lime green from fading in the OKLAHOMA sun DesertWare Plane lingerie (thx Joyce)
21lbs, I quit counting after 250 hours
thanks again, B.R. Burns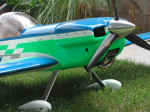 ---
---
April 20th
Hi, Dennis and Caroline,
I just received my 40% Extra 330 kit in the mail. I had to have it because they say it flies better than the Cap and my Cap flies great. Here is a pic of my 40% Cap. 37 lbs, DA 150 , MonoKote, Tru-Turn spinner , Airtronics Stylus with 2 Receivers. Built and flown by myself, Keep'em Flying,
Randy Martin from Manvel , Texas.
---
---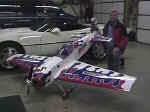 March 27, 2003

Hi Dennis and Caroline,
Well I just got home from Bill's and my Cap is just about finished. I have a couple more graphics to put on it and I'm ready for Toledo. I sure hope you like it. I spent a lot of time to get to look like this so I hope everyone doesn't hate it.
Take care and I'll see you next week.
Also I got my wing bags and like always they are perfect.
Thanks again , your're the best.
John McNees
---
---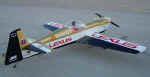 March 19, 2003
Just wanted to send you a pic of my completed cap.
This is the older version of the 35% cap 232, with the wings that slide into the fuselage.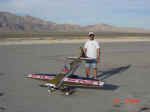 Powered by a DA-100. JR 10SXII, 8411 servos covered in Ultracote. Duralite Plus batteries
Owner Andy Busutil from Las Vegas ,builder Rick Acosta
Thanks, Andy Busutil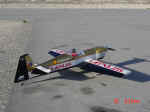 ---
---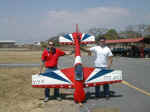 Feb 6th, 2003
Greetings to the people at Carden.
Here are a few pics of Mr. Adalberto Tiberiniīs 35 % CAP 232.
Servos are all 8411īs From JR, TX is a 10SX II radio also from JR
The plane is a delight to fly, just like a clockwork.
One of the picture shows Mr. Tiberini in an attempt to abuse his rudder (he did).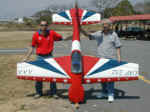 Thanks Carden for providing us with the very best in R/C airplanes.
best regards to everybody
Adalberto Tiberini
Maracay, Venezuela
photos and text submitted by Tomas Landaeta
---
---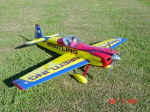 January 23, 2002
Hi Dennis and Caroline
Here's a few pics of my 30% Carden Cap 232 finished June 2002 , hope you can use some of them on Carden's site.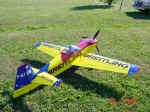 Power is a ZDZ 80 single with a KS canister slung under the belly, Mejlik 24x12 3 blade prop, covered in Ultracote, graphics by Kirby's Custom Graphics.
Performance is outstanding and the set up is very quiet.
Sincerely,
Michael Block
Mississauga, Ontario Canada
---
---
January 16th, 2003
I just finished this 40% Carden Cap and it is flying great...
3W 150 motor
Futaba 9Z radio
11 8411 JR servos- 2 per aileron- 2 per elevator and 3 on the rudder
1 4735 throttle servo
3 2700 Nickel Metal Hydride batteries
Weight is 38.5 pounds ready to fly
Covering is all MonoKote and paint is all Dupont automotive.
Mickey Crawely
---
---