July 21, 2005

Hola Carolina:
I present You my new project, ...
Extra 330 S 35% totally new, are the first photos before their premiere. (maiden flight)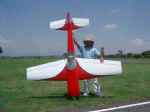 The premiere will be next Saturday 16 of July..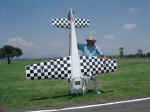 Thank you so much forall the attentions of your part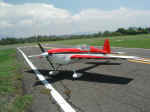 PS Already they are four Cardens that I have built... the best of the market in control radio airplanes! !!! Soon the Yak..
Greetings, Javier Sierra
---
---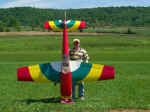 July 13, 2005

Friends,
Every time I have built a Carden, I have managed to sell it before I got it completed. Well I managed to keep my mouth shut on this one and finally have a 35% Extra of my own!

I now have 8 flights on it and can honestly vouch for what all the hype about Carden's is all about. The plane is very smooth and makes me look much better than I really am.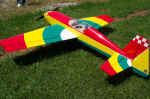 (I expected that from flying Mike's, Brian's, and Bill's 40%'ers). Lines are straight, snaps are nice and slow where I can keep up with them and they stop very crisply. Rollers seem much easier than other designs I have flown. I can't wait to get to a
contest to see how things go.

I've been too anxious to fly it every time I get to the field that I keep forgetting to weigh it. I'll get that done one of these days.
It still has a few white stripes to be added and it really needs some stickers, but everyone that has seen it fly has commented on how well the colors show up and how drastic the change is from top to bottom. I've been told I need to contact the Life Savers candy company for sponsorship. I wasn't after that effect, but wanted it to show up well in the air. It really does do that.

Dale Klein
---
---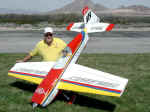 May 25, 2005
Hi Guys!
Well, I know this has got to be record time to build one of these things but I did have a time challenge along the way. The airplane flies great as expected. I have been waiting to get the graphics from Kirby to send you a picture for web site. I know this has been a challenge for me but I would like you to know that I appreciate all your help with the project. There is just a certain pride of flying this one as opposed to an ARF. I hope this finds you both in good health and business is good.
Hope to see you soon, Tom and PattyMae
---
---
May 25, 2005
Caroline and Dennis, here's a few pictures of my new 35% extra.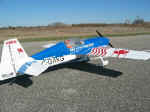 DA-100 with K&S cans and JR 10X radio.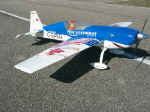 Graphics are by Kirby and hand cut.
It's the best flying 35% I've ever flown!
i also included some pictures side by side with my son Rob's 40% Extra.
Bob Teseo
---
---
September 15, 2004
Hello Dennis and Caroline

Here are a couple of pictures of my 35% Extra 330s. It ended up weighing exactly 28 lbs and is powered by a DA-100. It is a great flying airplane and has become a great IMAC plane to compete with. What I like the best is that I can go from flying precise manoeuvres to flying some pretty wild 3D with a flip of a rate switch.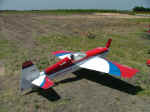 I can't wait to build a 40%er!

Thanks,
Bret Rogers
San Antonio, TX

---
---
September 9, 2004
Dennis/Caroline,
Just want to say what a DREAM this 35% Extra is to fly!!!
After a few years of flying brand "J" ( we all know what the "J" stands for!) I decided to take the plunge into a Carden!!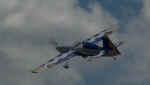 I wish I would have done it years ago!!! Flew pretty true off the board. With 3 beeps of right ail and 8 beeps of down elev, I was tickled!!!
It was the EASIEST trim flight I have put on a new plane since I don't know when!!!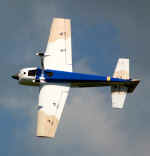 JR 10X, 6-8411's, 2-8611's, 2721 on thro. 950S PCM Rx coming from the i4c Products Isolator. 3W 100 Cactus Sig. Series w/ canister mufflers, i4c Products, DuraLite Plus batteries, Sure-Link rudder system, RadicalRC extensions, and finally J&M Model Craftsmen!!!!
I have to thank Jim Short and Tom Mikalaskaus for putting the plane together for me, since I have no room. Plus I'm still in college! I graduate on July 15th, roughly 8 days from now!!!!
Airplane weighs roughly 29#, and flies like it weighs 20#!

Thanks for such an awesome product, as you already know!!
Chris Fry, Dayton, Ohio
---
---
September 9, 2004

Hello Dennis and Caroline
I couldn't resist sending you pictures of my latest projects. I finished the Extra about 3 months ago and I maidened the Cap today.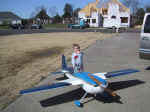 Sorry to say my Edge meet it's maker recently
due to pilot error, but I've received my new kit and will be
building a new right away.
Cheers, Ralph Foll
---
---
September 8, 2004
Dennis, Caroline:

My 35% Extra is finished and has about (14) flights on it now. I can't believe how smooth it flies. It took one click of elevator and one click of aileron.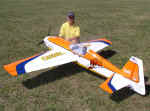 I balanced it just as Dennis suggested. I have KS canisters and a 25-12 Air models three bladed prop on it and it is so QUIET that you have to really have to concentrate to hear it. It has a DA-100 for power, all JR servos and SWB servo arms and servo tray for rudder.

The plane was glassed, painted and covered by Doug Yaroch at A & D Custom Aero and it looks as good as it flies. This is my second Carden and I don't even care to fly anything else.
Jerry Ream
---
---
August 19, 2004
Caroline and Dennis,
Here is the latest master piece from Jim Julian of PSL, Florida... And of course my moral support throughout...
This is the newest addition to my fleet..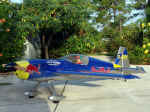 It will be test flown tonight and I am sure it will fly as great as all my Cardens..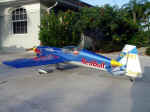 Its powered by a DA 100, 8411's on rudder and ailerons and 8611's on the elevators. I look forward to many, many great flights and as always thank you guys for your support.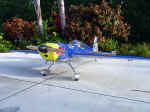 Chris Costantino
---
---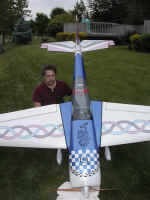 August 12, 2004
Hi Dennis & Caroline

Well it's been a year since I received my kit and after adding a 20x40 addition to my garage so I had room to work I have finished and flown my first of what I hope to be many Cardens.

I have to tell you there is nothing like watching it lift off for the first time and it's so easy to fly I had to add 2 clicks of elevator and 1 click aileron and that's it. when I started flying 3 years ago everyone I talked to about flying large planes told me if I wanted to fly the best I would have to fly Cardens because the are the best, they where 100% correct!
Engine - DA 100
RECEIVERS - 2 JR 649 PCM Servos - 7 JR 8411 & 2 Futaba 5301
Servo arms & tray - SWB
Hardware package - from Carden
Graphics - DB signs & designs
Covering - MonoKote & Ultracote
Batteries - Powerflite
Wing & Tail bags by Caroline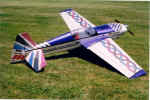 I have dealt with a lot of companies in my 48 years of life but I never had any so willing to spend hours helping me and teaching me how to build the perfect model, you two are the best and your customer support can't be beat thank you for all your help.

To all the people that are looking to build and fly giant scale planes I have to tell you from experience if you want the best buy a Carden!

Thank You
Dave DeMichael
---
---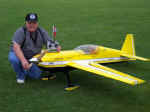 June 14, 2004
Dennis and Caroline,
Hope you made it back from the Joe Nall in good shape. On Sunday Gary Villard test flew his new 35% Extra and as you can see from the photo, we still canít get the smile off his face. The D&B 120cc Twin in this plane is a totally awesome combination. Would you believe unlimited vertical at about 1/3 throttle? He let me fly it for a few minutes and now Iím really hot to finish mine.
Kraig Krumm, Canton, OH
---
---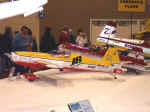 June 3, 2004
Hello Caroline & Dennis!
Attached are a few photos of my recently completed 35% Carden Extra 330S. What a wonderful airplane!! We're still getting to know each other, but so far it's been nothing but pure fun to fly. Every manoeuvre is crisp & clean and it flies like it's on rails. Test flight was very rewarding..... it took only one 'click' of elevator trim for straight & level hands-off flight...... sweet!
Been quite an adventure so far - I entered the model in the Toledo R/C Expo in April, managed a second place in the Monokote category.

Then, after a couple of successful test flights, it was off to the Joe Nall fly-in just this past week. Had a great time - got another 7 flights on this plane, plus a few on my 35% Carden CAP 232 that's still going strong.
Did a little more feeling out of the Extra at `Nall..... so far it's done everything I've asked of it and more. Now that the engine is getting some time on it, it's time to start trying out some 3D 'fun'. I have no doubt it will be awesome!
Couple quick particulars:
Engine - 3W 106 w/Mejzlik 28x10 prop
Radio - JR 10X, JR 945 Rx
Servos - Hitec 5945 and 5975 digitals
Servo arms, engine offset mount, rudder horn, pull-pull tensioner system: SWB
Covering & trim - hand-cut MonoKote
Paint - Concept PPG Urethane from Radio South


Trim scheme..... own design that seemed like a good idea at the time!! End
r
esult was worth the effort, though!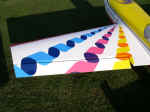 Thanks for the great design, I'm looking forward to this summer's flying to find out just what this thing is capable of..... somehow I suspect it's only limitation is going to be me!! But I'm working on that, and this is just the plane to help me expand my horizons!
Thanks again, Barry J. Hall Britton, MI
---
---
May 20, 2004
Caroline & Dennis, I finished my Carden 35% Extra a few months ago and finally got a chance to fly it last weekend. I had built your 30% Extra a couple of years ago and I really loved the way it flew, but the 35% is even better. The Extra has a DA 100 and Hitec servos throughout. This is certainly one of the nicest planes I've flown.
I am now building the Carden 40% Extra for a friend in Little Rock. I'll be test flying my Carden 30% Cap 232 in a couple of weeks and I'll send a picture of it with a flight report. Just cannot think of a better company to do business with than Carden.
Carroll Plunk
April 25, 2004
Dear Dennis & Caroline,
Greetings from South Louisiana! I thought I'd send you a couple pics of the new 35% Extra 330. I have about 8 flights on it so far and I can't say enough about it. This one is a winner...I think I might like it better than my Edge.
The plane has such a presence in the air and on the ground...it is smooth and graceful but ready for 3D at the flip of a switch. The DA100 is a perfect match for the Extra. Thank you so much for what I feel are the best kits and planes available! I could go on and on but I think you get the idea...I LOVE the new Extra!
Greg Myers, New Iberia, Louisiana
---
---
Sept 12, 2003
Hi Dennis and Caroline
Wanted to say Thanks! Just finished mt 35% Extra. Building this kit was just like all the others! everything fir perfectly and the material was "Grade A" as always with Carden kits. Hope to get to the field next week.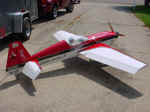 Thanks again for all you and Dennis do to make this hobby enjoyable
Hope to see you soon
Jim Short
www.jandmmodelcraftsmen.com