February 11, 2016
Hi Dennis and Caroline!

I just wanted to share some pics of the 104" Edge that I completed and maidened last August.
This was a super fun build and I am absolutely impressed with the aircraft handling and performance!!
I ended up with 2 clicks of right Aileron for trim, so I am stoked at that!
Such a floater!!!
And my flagship!!
Set-up is:
DLE-111 V4 on Hype Cans
Falcon 28 X 9.5 CF
BLS-172 Durant Direct Drive for tail
MKS-777 wings (singles)
Jeti guidance and telemetry
Thanks Eh!

Cheers,
Scott Bechervaise
Mississauga, ON
---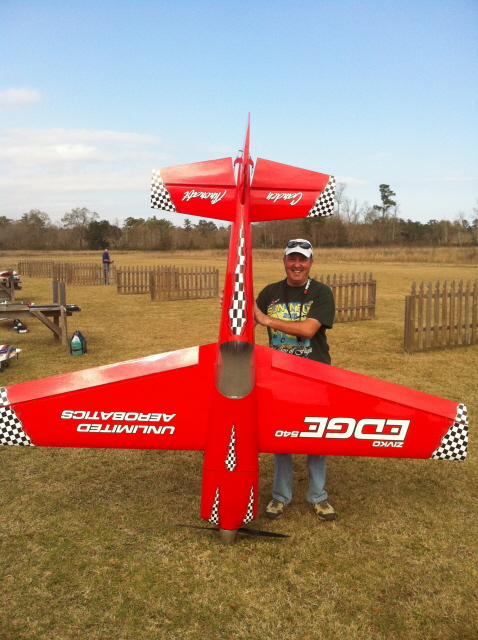 January 3, 2012
Hi Dennis and Caroline, hope y'all had a good Christmas and New Year! I had a GREAT time, as I flew my new 35% Edge for the first time! I was only able to do two flights, but so far only 2 clicks of "up" trim! Of my 25 years in this hobby, I've never flown such a fantastic airplane! I'm already planning a 40%! Thanks,
Bryan
---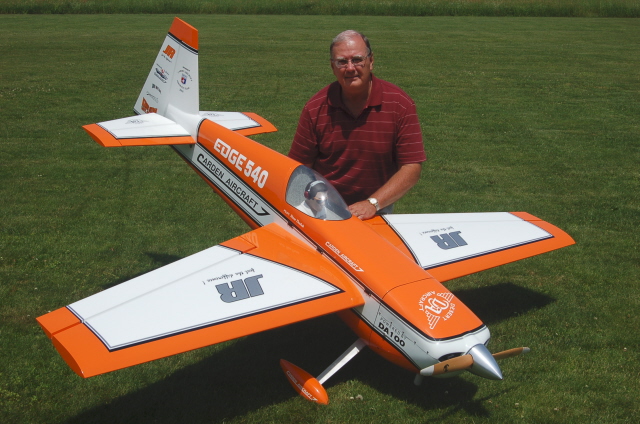 November 5, 2011
I just wanted to send you a couple of pictures of my 35% Edge.
It's a great flying airplane and I have been having a lot of fun with it. Thanks again for such a great product.
Steve Doubek
---
August 1, 2011
Willie Combs' "Blue Edge," by AJ Lee.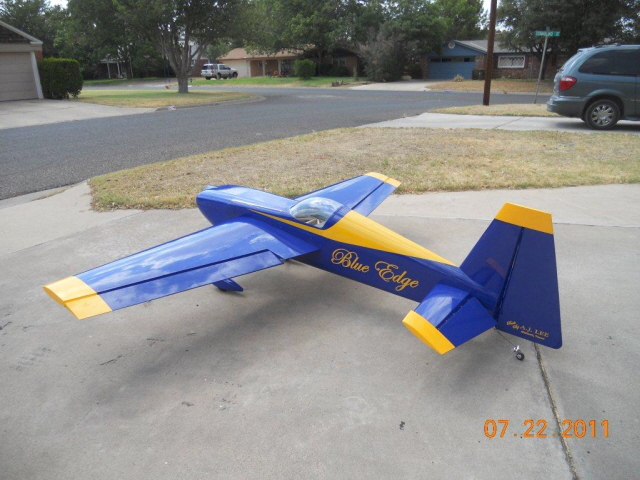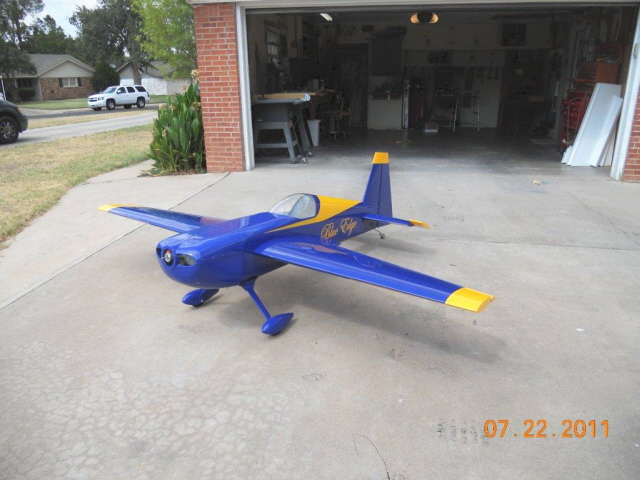 ---
August 1, 2011
Dennis,
I just thought I would send you the picture I took of my Edge immediately following its 500th flight. It still flies great! Barring any pilot "brain farts" it should last another 500 flights.
Bob Scheppele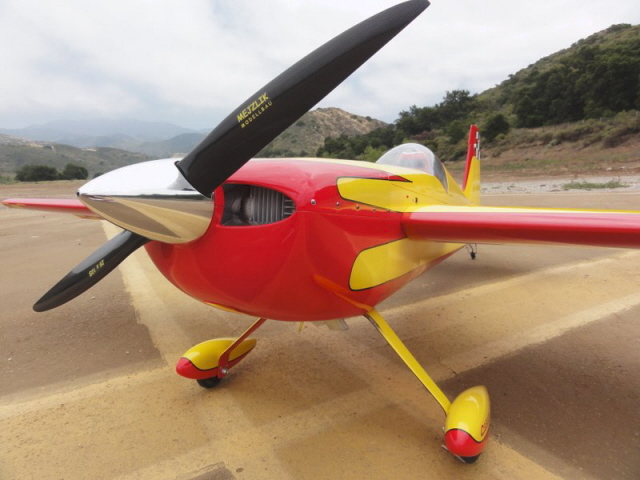 June 14, 2011
Dear Dennis & Caroline,
A small dream of mine back from 1993 has finally come true.
450 hours, as well as patience, diligence and sheer determination, has produced my dream plane.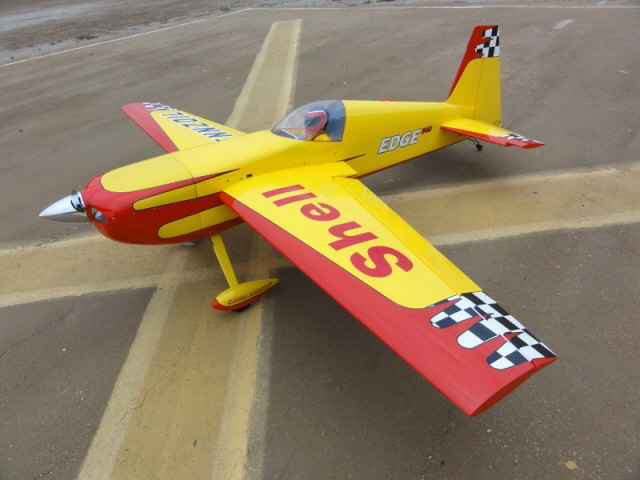 I enjoyed doing my build thread on FG, and especially enjoyed building the "Rolls Royce" of R/C aircraft. I commend you on a design that has stood the test of time, and rises far above the rest.
Amazing airplane Dennis!
My set up is: 35% Carden 540
DA 120 with custom mufflers
Mejzlik 29 X 10S prop
Spectrum AR9100 RX
Hitec 7955TG on all flying surfaces (2 on pull/pull rudder) And of course, wing bags by Caroline
I look forward to enjoying this R/C plane for many years to come.
Thank you for giving us builders an "A" class airplane to build and fly.
Yours Truly
George Bernhardt
---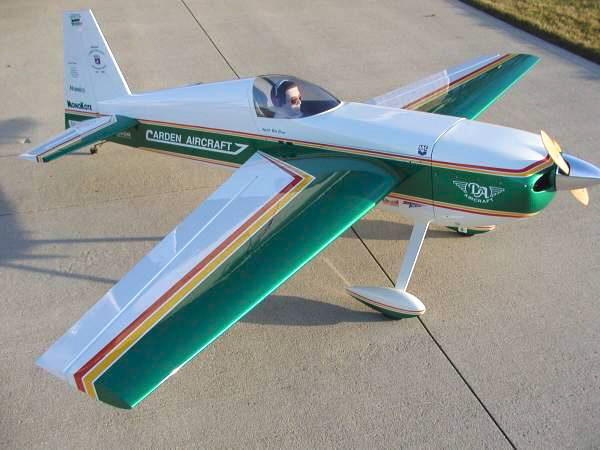 March 22, 2010
Here is a blast from the past for your gallery, This is Bill Cline's old Edge that found a new home and a new lease on life.
All updated to 2.4 and Lipo power. Still looks awesome after 9 years...!!!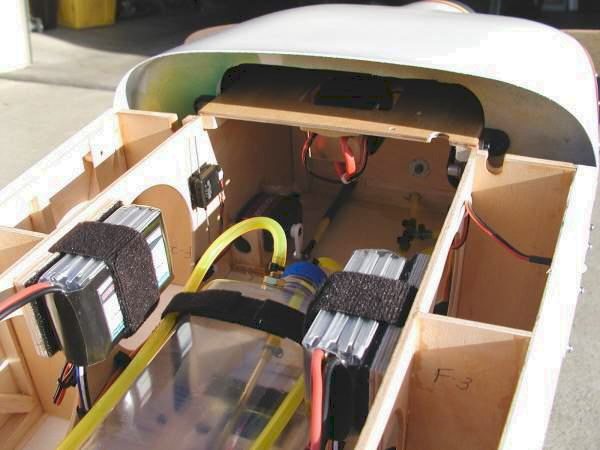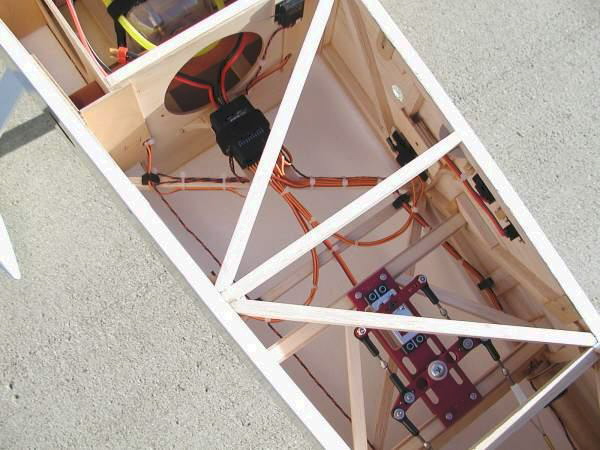 ---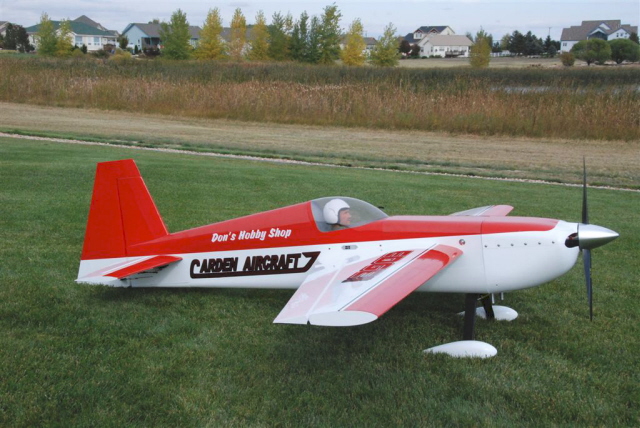 October 14, 2009
HI Dennis and Caroline,
I've recently completed the build and maiden flight on my 35% Edge. This is my first Carden but will not be my last. In a single word, all I can say is "WOW". This is truly an incredible airframe! I thoroughly enjoyed my build but the flight performance is the marquee element of the plane.
I completed each step of the project myself including writing my own CNC programs for the motor box work, built a wing press to sheet the wings,
and completing all of the required covering and painting on the airframe myself. My maiden flights were amazing to me! I not ever flown a plane as smooth and accurate as this one. Now I understand why your product has such a following.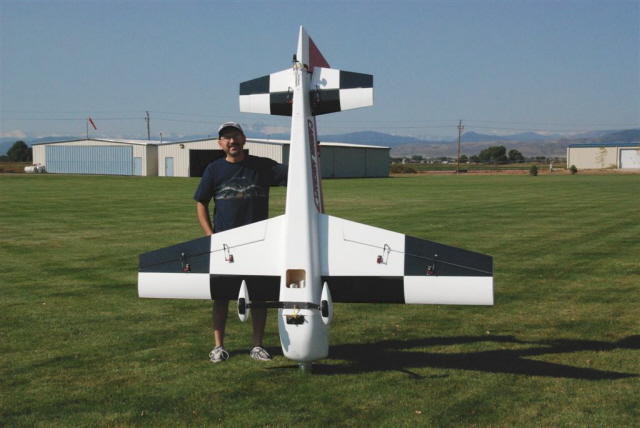 I am looking forward to many good days and improving my flying skills with this plane.

Thanks for all your help
Don Brown Jr.

---
September 9, 2009
Caroline: Here is a picture of my 35% Carden Edge 540. Flys great!
---
September 30, 2008

Hi Dennis,

Here are some pictures of my first Carden build.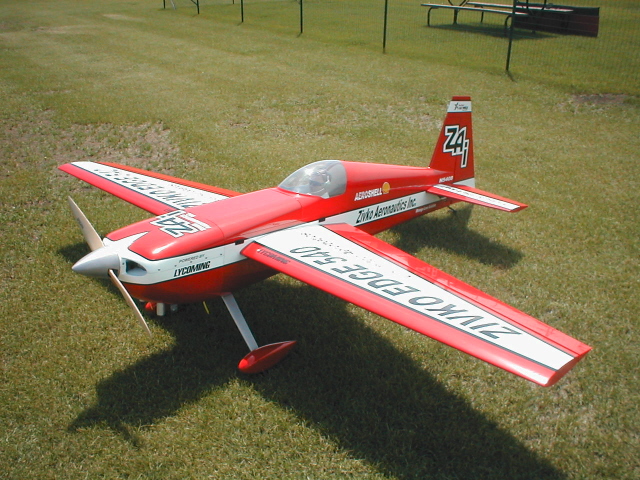 I really enjoy this plane and the performance is outstanding.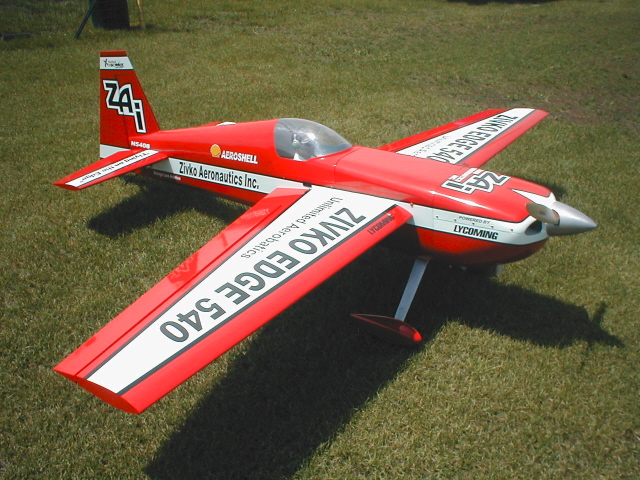 Thanks,
Chris Anderson
---
August 17, 2008
Hello Dennis,
Another Carden has flown in fine style!
I completed the baby Edge 540 for Ed Cobb and we flew it today.
It has a new DA 100 with canisters and even though it is set for break-in, the plane did everything we could think of. After I flew it, the best pilots in the Lineville, Al club tested the plane with a full line of maneuvers and the plane did them all.
Thank you for another plane that is as much of a joy to build as it is to fly.
It passed all of the trim tests with no adjustments and I have only seen that with your planes.
I usually replace some of the wood in kits but all of the wood supplied was used in this edge and it came out 26 lbs and 8 oz flying weight.
Great 100cc Airplane.
Brian Deis
Dadeville, AL
dream-rc-airplanes.com
---
---
July 13, 2007

Caroline & Dennis
updated photos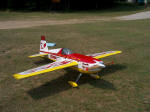 Don Held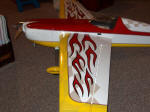 May 12, 2007

Caroline & Dennis
Caroline & Dennis
Don Held
---
---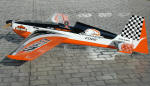 May 12, 2007

Hello, I just finished my 35% Edge 540 kit

Dave V
---
---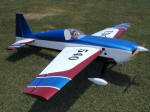 February 11, 2007
Caroline & Dennis
Attached are a few pictures of my 35% Edge. Note, these pictures were taken after over 100 flights. This was my first Carden kit, but certainly won't be my last. Construction was pretty quick – only taking me about a month to have it ready to cover. I received a few helpful tips from Brian Hueffmeier along the way.
Powered by: 3W-106 QS
Radio: JR
Servos: HItec 5955 on rudder and elevator, 5945 on ailerons
Bob Scheppele
---
---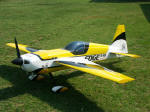 September 14, 2006
Caroline & Dennis
I finally finished my Edge. I maidened it on Monday, and was delighted with the plane! Really flies straight. I thought I'd send you guys a couple of pictures, even though I know you have thousands. (I'm pretty proud of it). This was my first kit build of a 35%, and while I know the mistakes I made, no one else does. It's really nice.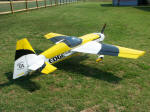 You guys were a huge help in the building, and I really do appreciate that. There are only a handful of people in this hobby who take the time with their customers that you do, and who stand behind their products as well. I'll be doing another one, just haven't had enough time to enjoy this one, yet.
Bruce Darden
---
---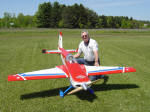 July 12, 2006
Caroline & Dennis
Attached are picture of my 35% Edge 540.
I started to build it in January and my first flight was May 6.!
The plane flies great!
Juris Sturis
---
---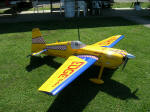 March 29, 2006
Caroline & Dennis
This is my 35% Edge powered by a DA-100. The plane beautifully and is no doubt the best flying plane I have ever owned
Jeff Terrell
---
---
January 12, 2006
Caroline & Dennis

I thought it was about time to send you some pictures. The blue plane is the first one I built. The purple one is my son's and is the second one we built. We have a third one on the building table at this time. Both planes are set up the same. DA 100's for power and 8611's on all surfaces except rudder. The rudder is set up with two 5301's.The blue one is a real testimonial to the Carden design.
As you know it was destroyed on its maiden flight three years ago. Thanks to your design and a few conversations over the phone, the rebuild was simple and straight forward. Pete Rosas has flown it several times and this plane is rock solid when it comes to 3D. I hope to have some more pictures when we are done with the third one. Hope to meet you both in Toledo in 2006

Take care and thanks so much!!!
Mike and Brad Ritonya
---
---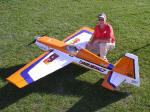 March 28, 2005
Caroline & Dennis
Here are two photos of my new 35% Edge 540. Same color scheme as my Extra. This is my third Carden and they all fly great.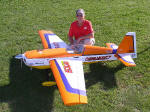 My Yak will be ready for the first warm day next spring. Can't wait to fly it.
Thanks!! Jerry Ream
---
---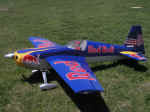 March 28, 2005
Caroline & Dennis

Here's a photo of my new Edge 35%. It was built by Rob Teseo, Graphics by Stan Stockman at Cutting Edge Graphics. I've flown many giant scale airplanes. This is by far the sweetest flying plane I have ever flown. Everything they say about Carden is on the money. Well worth the price
of admission.
Thanks Sandy Meyersfield
---
---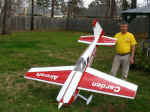 March 28, 2005
Caroline & Dennis,
My latest Carden finally made it out of the shop today for a couple pictures. The Edge has a DA 100 for power, Hitec 5945 servos on all surfaces, SWB two servo rudder tray and arms for all servos. 32oz B&B tank, Rocket City hardware and pro links. Ultracote covering (of course) and Dupont paint. Total weight 29lbs. First flight in about two weeks weather permitting. Fromeco batteries. All hardware purchased from good friends at Don and Judy's Hobby Shop in Salina, Kansas. Thanks, Carroll Plunk see my Cuda here
---
---
February 9, 2005
Your 35% Edge 540 is a great kit and the best plane I have flown in 45 years. I will see you at Toledo. Photo taken at Venice Florida. It uses a DA 100 with smoke.
Richard Javery
---
---
January 10, 2005 ( from Sept 18, 2004)
Dennis and Caroline,

I just cannot believe it! I flew my new 35% Edge today with Pete's help and I can honestly say that it is the BEST airplane I have ever flown and am happy to say OWN! I had flown Pete's planes before which prompted my Carden interest, but I am always leery flying some else's plane.
Now that this one is mine, I really felt more comfortable behind the sticks - still nervous, but more excited. I cannot believe how well it tracks and Pete helped me through some of my first Knife to Knife snaps. One comment overheard was "wow, that plane makes you look like a better pilot than we all know you are" -- you can see I have allot of friends at the Field!I think I will have many great flights with this plane and now really am pumped to get my 40% Extra built this winter...!
Thanks for the time you spent with me on the phone last week answering all those last minute questions. You guys are the best and I love my new Carden!
Rob Skiba
Omaha, Nebraska
---
---
October 29, 2004

Dennis and Caroline

I have two beautiful 35% Cardens, an Edge 540 and a CAP. They both fly unbelievably and make me look good. The way that they perform at low speed keeps everyone amazed.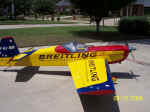 Both are equipped with DA 100's that run as good as the airframes fly.

Since I don't have a trailer, my biggest problem every flying day is deciding which one to fly.

Thanks for such an amazing airplane.
Jerry Walters, Lafayette, LA.
---
---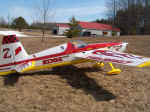 October 11, 2004
Hi Dennis and Caroline.
Here is my 35% Edge that took 3rd place at Toledo this year.
See more pics of it in my gallery here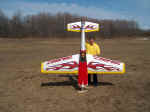 I am one of the Carden professional builders, you can contact me at the following.
held@avci.net
Don Held
1550 Patterson
Elmiea, MI 49730 (231)5842662
---
---
October 11, 2004
Hi Caroline and Dennis:

I am sending you some pictures of my airplane. This is the first Carden in Guatemala. I covered with the same design of Mike Sauls and just add a silver strip between the yellow and the black, It looks great. This is a great airplane, What a Knife Edge!!!, and the landing is so smooth.
Thank you very much for your help,
Carlos Valenzuela
---
---
September 8, 2004
Hi Dennis and Caroline.

Just wanted to send you some pictures of my Edge. I am really getting the hang of flying it. This is my first large scale aircraft, and I would just like to comment on how impressive this plane really is. I never thought that a 28 lb. plane would handle the way this one does. It just flies so light. I have not mastered any 3D manoeuvres yet, but I am practicing every weekend. I burn about 5-6 gallon of gas between Saturday morning and Sunday night. It was getting very frustrating for me because I just couldn't do the 3d manoeuvres the way they were suppose to. I was getting to the point I was ready to sell the plane. Then I took my plane to a fly-in down in Brookville, Indiana. There was an individual there that I seen flying his 40% edge literally on the "edge". His name is Jim Dewinter.... Was very impressed with his flying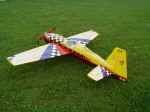 Want you to keep in mind that I have never let anyone fly my plane other than myself and a friend of mine. I was sceptical at first, but I had to know whether or not the plane was capable of hovering and knife edge loops and so on.....Yep, it will with authority; and yep "I can't fly!" I'll admit it. Thought I was good, but he showed me just how much I really needed to practice. On his first flight however he was very honest. Told me the plane flew like crap. I kinda looked at him and asked for more info.....hahaha...My radio was set up all wrong. Throws, rates, exponential; you name it and I had it all messed up. So it goes to show you that the radio does make a big difference also. On his second flight , wow!!!...He flew it like he had flown this plane for quite some time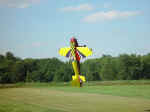 Had several members of the fly-in come over and ask me what we changed on the plane. I said "nothing, it was the radio set-up only"......He flew around for a few minutes, then I told him to get it down on the deck. He did. I was so nervous. The p-factor was very high. Not just for me, but for my friends also. All I said was that " well , the closer he is to the ground, the less of distance it has to travel to get to the ground" I hope that is good analogy. Hahaha....I put in some pictures of my edge. Hope they get posted. The hovering is not me flying it is...JIM DEWINTER. He is a member of the Ohio Buckeye Squadron. Also known as the Wingmasters......Want to say how wonderful he was to deal with. Very polite and very informative. Have to give him a lot of credit. I am nobody, and he took the time to help me out and miss out on his own flying time
Also want to thank Jim and Matt Short. Jim built my airplane and Matt did the painting. I have to say that they do a fabulous job. They are wonderful people to deal with. I just wanted to make this testimonial a little different than some of the rest I have read. This testimony is about the quality of plane that Carden Aircraft puts out to the public. The quality of workmanship that Jim and Matt Short have put forth to me and some of my friends Everyone involved with this plane before it reached my possession deserve a lot of credit. I am very grateful to have the opportunity to share my thoughts with the rest of the "Carden Fans". Sorry to have been so long winded
Tim Adams
Centerville, Indiana
---
---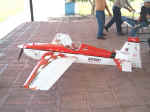 August 16, 2004
Hello Carolina and Dennis:
Well, the premiere of my Edge 35% was a success, there was no need of corrections or adjustments, an excellent plane, fun and strong.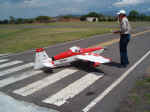 Here I send you photos of the first flight
Muchos Saludos su Amigo

Javier Sierra
Hola Carolina and Dennis
I send to you more pictures of the last event here in Guadalajara

Saludos Javier Thank you very much

( Below is Javiers new 35% Edge with his 40% Extra 330s that he built for 2003. Click the Extra pic to go to that gallery )
---
---
June 18, 2004
Hi guys, I flew my new Baby Edge 540 the other day. All I can say is WOW. What a sweet machine. One beep of up elevator and she was perfect. Thank you for such an awesome kit and the fine support.. Can't wait to fly my new 330S

Rod Schmidt, Las Vegas
P.S. Looking forward to my new Cuda too.
---
---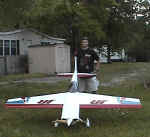 June 16, 2004
I just wanted to show you my new 35% Edge. Tt has about 16 flights on it and everyone of them have been awesome. DA-100, 2721 servos on ailerons and elevators. 4131 on the throttle, 2 1/4 scale 5103 futaba's on the rudder with sure-link pull-pull. Plane flies like nothing I have ever flown before. Plane needed no trim on first flight. Awesome plane thank you CARDEN.I will also be getting a 40% Extra in a few months, I cant wait. Thanks a lot for a great plane.
Jason Curl, Havelock NC
---
---
June 3, 2004
Hi Dennis and Caroline
Here is a picture of me and my 35% Edge. This is my first big plane and it flies great. It has a DA-100 and DA fuel dot, Hitec digital servos, Smart fly equalizer 3D and three 2700 nickel metal packs. Mike Sauls helped me pick the scheme.:-)
James Shelley Kingston, TN
---
---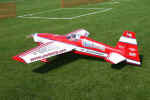 June 3, 2004

Howdy y'all, Here is the 35% Edge

Scott Bendix
---
---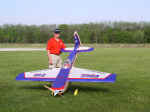 May 24, 2004

Dennis and Caroline:

I finally got the 35% Edge 540 out to the flying field last week and this morning the sun was out so I got a few pictures of it before the third flight.
It seems to just fly itself.
I haven't done much more than a few loops and rolls with it yet as I am just getting use to something this BIG! It lands very nice almost likes it's on autopilot.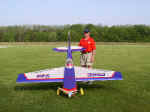 I hope to give it a real workout in the next few days if the wind stays under 25 MPH.

Thanks, Jerry Ream
---
---
May 24, 2004

Hi: Caroline & Dennis

Here are some pictures of mine and Bruce McKenzie's 35% Edge 540's.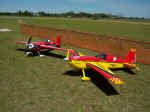 Both plane are the same but the covering .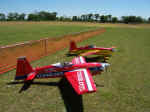 DA-100, Hitec Digitals throughout, Powerflite battery's.
They are the best flying plane's we have ever flown, and do all the 3D moves with authority.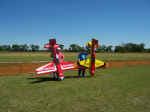 Thanks for developing such a good planes.
Tom Holt
---
---
March 20, 2004
Subject: Ian Beveridge Edge 35%