February 16, 2012
Had a great season last year, made it to about a dozen events. Campaigned the 43% Edge and Cuda at all events. They are in the same color scheme.
Really love the performance of the Edge, it will do a gravity defying inverted harrier you wouldn't believe and some tight knife edge loops. Crazy stable platform for any 3D maneuver. Thanks again for a great plane!
---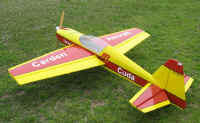 March 28, 2005

Caroline and Dennis,

My newest edition to the hangar made It's first flight today in a bit windy conditions. This has to be one of the best flying 50cc planes I've owned. It performs much like an Extra and an Edge combined. This one is a keeper for sure.

Thanks, Carroll Plunk see my 35% Edge here
---
---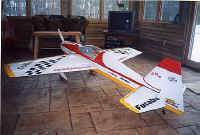 February 20, 2005
Here's Bob Bensons new CUDA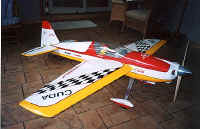 ---
---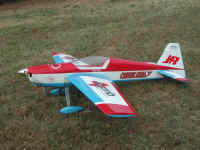 January 31, 2005
Hello, Dennis and Caroline
WOW is the only thing I can say about the CUDA.
I got my first flight on it today and WOW does it fly great. You were right when you said it would roll fast, but didn't know you meant that fast.
Its hard to keep up with when it rolls
The thing flies like it is on a string. I think I am going to like it better than my 40% planes that I have from you.
I am sending some pic of it for you.
Thanks, Josh Bunn
---
---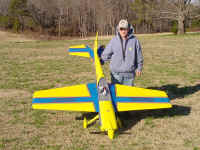 January 25, 2005
Hi Dennis and Caroline,
Here are some pictures of my Cuda.
I have been wanting a small fun fly plane for a long time that I can just "throw" in the back of my truck and go to the field for maybe an hour or 2 that was capable of doing 3D and precision aerobatics.
I've only gotten 2 flights on it, but I can tell this is it.
Thanks, Nick Foster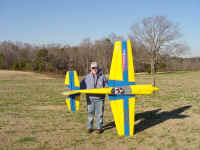 ---
---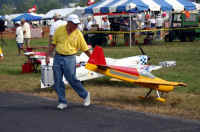 September 14, 2004
The Carden Cuda at the D.O.G.S. Funfly Dayton Ohio
Dennis rolls her out to the flight line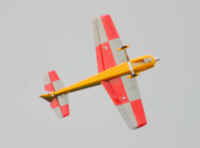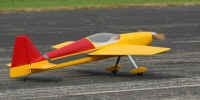 ---
---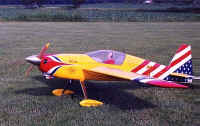 July 28th, 2004

Dick Held's Cuda
Easy external installation & inspection of MTW-75 Canister Muffler with DA-50 engine makes for a very quiet combination.
Pre-cut cowl opening with 1/4" roll flange to stabilize cowl. Cowl also accepts Pitts style/Stock Mufflers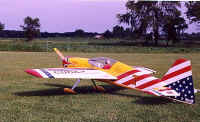 ---
---
July 25th, 2004

Hi Dennis and Caroline,

I finally took some pictures of my Cuda. I have 22 flights on it now and it flies smooth and true. I like the looks of it's lines, sleek and fast. This little baby really flies good. It looks like a bullet in the air and flies straight and true. It has a DA-50 for power with MTD canister muffler. The DA-50 has great power to weight ratio.
The engine has gobs of power and the muffler system is so quiet that 4 stroke engines flying at the same time make more noise.

I have about thirty flights on it now and have let a bunch of guys fly it at events. They all have had the same response, " this thing is smooooth"! It draws allot of attention in the pit area also.
Doug Yaroch
A&D Custom Aero
---
---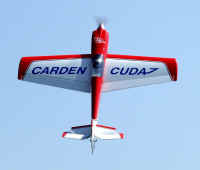 April 25th, 2004

Test flight day for Dennis's new Cuda

She sure looks sweet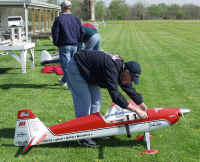 Dennis putting her together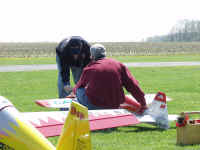 Frank and Dennis pre-flight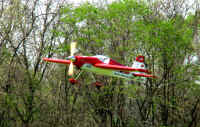 Well, it's show time !!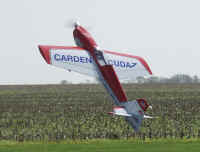 Bill Cline, Frank and Dennis
Photos courtesy Darlene and Bill Cline