Hello, Dennis and Caroline
Hope that you are not working yourself to death.
April 2, 2002
I have been very busy down this way with work and trying to fly my 40% Edge.I would like to say thanks for all the help with the plane and I ready to start the other one when you get the kit ready. I have included some pics for you two too see and fill free to use them If you won't. Caroline I was wondering when i would be getting my grey prop bag, I know this is a busy time of week, with Toledo coming up this weekend. Well just wonted to say hello And I'm sure I will see you soon.
Thanks Josh Bunn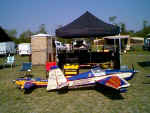 Hey Caroline & Dennis,
Just flew the new 40% Edge in Fayetteville over the weekend
April 10, 2002

Besides having to do some adjustments it flew great!! I can see many happy hours of flying time in the near future.
I drove down with a buddy to your facility last year and meet with you when I picked up the kit. See you at Joe Nall

Thanks again , Dave Garris Banner Elk, NC.
---
---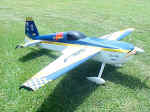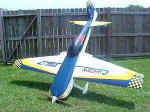 Joey Hamilton New for 2002 40% edge 540
---
---
New for 2002, 40% Edge 540
Dan Knippen, Chicago
---
---
Here's Ken Gregory with his 40% Edge 540 and 40% Cap 232
Feb 20th, 2003
Hi

Thought you might like this one. 40% Edge with an D/A ornament on the front. I'm having a great time with this can you tell.
Ken Gregory
---
---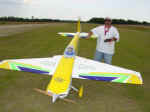 May 27, 2002
Here are the pictures of my 540 being flown for the first time with Mike Sauls assisting. I only flew this plane once this day and still did not have all trimmed out but it flew great. This one out of my three Carden aircraft flies the best !
---
---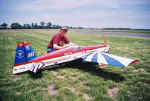 May 28th, 2002
Hi Dennis, I flew my 40% Edge last week and it is another great flying plane. Its one of the easiest landing planes I have ever flown and the 3D capabilities are awesome, it lets you get away with murder. Here are a few pics.
Thanks!!! Doug Cunning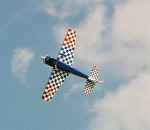 ---
---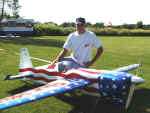 July 29, 2002
Here's Eric Watz with his 40% Edge 540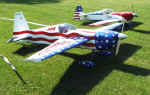 Eric's 40% Edge in front, and his 35% Cap 232 in back
---
---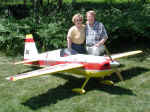 August 1st, 2002
Here's Dick Held from Ada, Michigan with his wife and new baby, a 40% Edge 540
---
---
Aug 14th, 2002
Hi Caroline and Dennis,

I finally took some pictures of my 40% Edge and thought I would send them to you.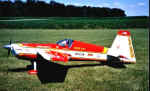 I sure am loving this plane! She weighs in at 36 1/4pounds and is awesome with the DA 150.
Thanks for everything!!
Doug Yaroch
---
---
Aug 12, 2002
I have enclosed some pics of my new Edge 540. The plane has about 25 flights and all I can say is that it's awesome. I felt that the engine has broke in well so I decided to bring it down to the deck as you can see in the pictures..

This plane is one of the easiest planes to hover and torque roll.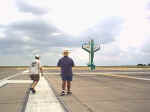 I love the DA 150 engine---it has a lot of power. It will pull it straight out of sight. Anyway, the plane has JR 8411's, dual 945 receivers, and JR matchboxes. This is a perfect combo. I have not weighed it yet but it flies very well regardless of weightI can continue on and on about this plane but I think everyone knows how great they fly and do 3-D.
Dennis and Caroline, keep up the good work and thanks for the excellent wing bags---superb quality.

Thanks, Joseph Puentes
see Joe's Cap 232 here