December 15, 2003
Hi Dennis and Caroline,
Your 35% Edge is my first Carden, and I am certainly impressed. The DA-100 is a very good match and the stability exhibited in high-alpha manoeuvres is amazing ... very solid flying characteristics all around. Thanks for taking the time with me to choose the right kit and hooking me up with an excellent builder and good guy, Jim Short custom builder.
Thanks also to another Carden friend (and ambassador), Joe Stek. He talked me into EVERYTHING (including Caroline's awesome wing bags) and was a big help … I'm a happy camper!

Looking forward to my 40% Carden in the Spring … I just have to decide which one!

Thanks should also go to Blaine Austin … I lifted his color scheme! Sorry!

Thanks again … Dave Kelly
---
---

FRANKBUILT MODELS INC
November 18, 2003
Hey Frank,

I got John's 35% edge today. All I can say about your building is SIMPLY AWESOME! I haven't really gotten a good look at your planes taken apart, but after taking the cowl off the Edge to tighten bolts.......I really got a good appreciation of your time and effort. It is amazing. And the way it flies.........dang ! Words cannot describe how straight it flies. This is going to be a truely awesome bird. Thanks a Bunch!! Ethan Raforth
---
---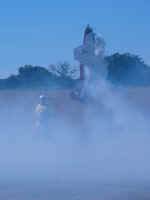 September 9, 2004
Sent:
Tuesday, July 27, 2004
Hi All
This is a photo of Kevin flying the Pacific Northwest Freestyle Contest on Sunday First Place Winner, of course!
-LeAlyce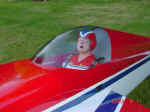 Denise and Caroline,

Sorry it's taken so long to get these to you, but here they are. That's my daughter Alexis in the pictures, she's 6 and is just starting to fly. Finally got some more flights on it today and I am truly in love with this plane.

Hovers are effortless, rollers are incredible, and I can finally do snap rolls without over or under rotating. We have the Cascade contest in Snohomish WA coming up this weekend, I'll let you know how it turns out.
By the way thanks for getting the CARDEN shirts and windbreaker out so fast. What a great Father's Day present.

A little about the plane, I'm running dual JR 945 receivers, 9-8411's, 1-4131 on throttle, 3W 100B2 with a Mejlik 27X10, Sure-Link Huffemier setup.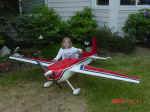 The pilot is a Virtual Reality that went on a severe weight loss program with a home made fiberglass helmet. The finish is Monokote with PPG Concept paints. I will hopefully add the graphics in the next week or so.

Thanks, Kevin L. Miller
---
---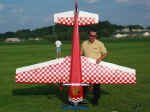 Dennis & Caroline,

Thought I would send you some pics of my 1st Carden plane. Brian Hueffmeier helped me with the construction and it came out awesome. 1 click of aileron trim was all it took.
Thanks for designing such a wonderful kit.
Mark Trent
St Louis
---
---
Dennis and Carolyn,
Just wanted to send a couple pics of my new baby edge. This is my first Carden kit and I'm sure not my last. Hopefully I'll have it in the air soon.
Thanks again, Rich Nelson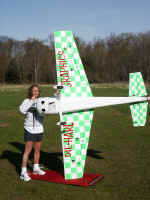 Well, I finally flew it and it's awesome! 2 clicks down elevator and 1 right bank to get it trimed.
Thanks again for a great product. I'm trying to get more guys up here in the Adirondacks interested in your kits. Hopefully. you'll be hearing from more of my club's members in the future. I'm already looking forward to my next one.
Thanks again,
Rich Nelson
---
---
July 27, 2003
Hi Dennis and Caroline,

Well I finally finished my 35% Edge 540. I have ten flights on the Edge and it jus keeps getting better with every flight.

This is the most well put together kit I have ever built. Everything fit so well together. It was a joy to build.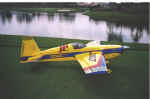 The Edge has a DA-100, Tru-Turn spinner, Monokote, and JR 10X radio. You guys put together a great kit, which builds into a great flying airplane,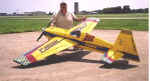 KEEP 'EM FLYING.

Craig Fendley from Houston, Texas.
---
---
Sent: Monday, June 02, 2003
Hi Dennis and Caroline: I am sending you three photos of my 35% Carden Edge to put on your website Edge Gallery. It is absolutely the best flying plane I have ever built. I took my time building it (I probably thought too much on each step) but the work and wait were definitely worth it. It flies very straight and has no problem flying the 2003 IMAC Advanced sequence. It does fly so smoothly and slower that what I was used to that I am learning to fly all over again!
Now for the details :
3W 100 TOC

, Supersonic mufflers, 3W 28 x 10 wood prop, 32 oz DuBro tank, 5800 rpm on ground, Tru-Turn Spinner

, Futaba 9C Tx, 2-149PCM Rxs, Cermark HD switches

, 4 9202s on ailerons with 2 Futaba MSA-10s on ailerons, 2 8411s on elevator, 2 8411s on pull-pull rudder with 4" Nelson tiller bar, Electrodynamics electronic ignition cutoff, 9202 operated choke (on spring loaded trainer switch), Ohio Superstar Haight-style tail wheel

, Black and cub yellow Ultracote, Cowl and wheel pants automotive paint

, Decals by Denny at Cajon RC
Thanks for designing such a wonderful plane and for answering my questions during the building process
Bobby Folsom
Vicksburg , MS
---
---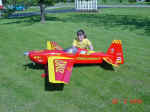 Thursday, May 22, 2003 10:00 PM
Subject: Edge
Hi
Thought I would send you some photos of my new 35% Edge.
We just took it out of the crate and it looks great .
Has a 3W-100QS and 8411's all around and should be just as good as the Cap.
Charles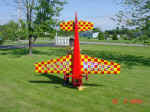 PS. How are things going with the new place?
---
---
June 3, 2003
Finally flew my Edge today.
It came in at 27-1/2 lbs with a DA100.


The airplane flies very "light", the rudder authority is incredible and the power to weight ratio is awesome.
The kit was a pleasure to build and must people don't believe it only took me eight weeks to build, it builds very fast.
Here's some pictures.
Alber Santiago
---
---
Caroline and Dennis,
I want to thank you for all of the support that you have given me over the last year with my Carden Planes. I can not say enough about your knowledge and the superior product that you are providing to the modeling public.
With Two 40% Caps a 35% Edge flying and a 40% Edge about to be completed, I am convinced that Carden is the way to go!

Last year you were so helpful at the Memphis, TN fly-in with helping set up my Edge.
It really shows that you are committed to the modeller and the industry at making a quality product that you stand behind, and it shows!
I must also thank John Light for the awesome build job and steering me in the right direction. Thanks, and check out the pics of the 35% Edge. My wife Karen also says hello!
--- Bryan Zang
---
---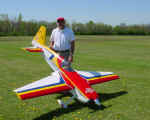 April 30, 2003
Hi Caroline,
Here are some PICS (taken at the IMAC training seminar in Lebanon, Ohio this past weekend) of my new 35% Edge 540. It was built by Jim Short, he did a great job. I would recommend him to anyone that ever wanted one built.
The Carden Edge is the best flying plane I have ever flown.

I want to thank you, Dennis, and Jim Short for such a remarkable plane.

Thanks again, Terry Gramling, Memphis, Tennessee
---
---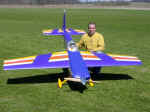 April 21, 2003
Dear Dennis and Caroline,
I just wanted to write to thank you once again for allowing us (DSP Builders) to display my 35% Edge 540 in your booth at the Toledo Show. We had a great time meeting and visiting with you during the weekend. I test flew the airplane last weekend and it went well. The airplane is everything I had expected and more.
I had been mostly flying ARF's up to this point and now realize how much I was missing by not having a Carden. This is my first Carden and definitely won't be my last. So thanks again and I look forward to visiting with you again at the Joe Nall!
Sincerely, Sean Saddler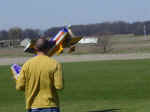 ---
---