New in 2002 is Don's 40% Extra 330S
Mon, 9 Sep 2002

Hi Dennis and Caroline , here's a few photos and a note. Thanks, Don

This year's project was the Carden Extra 330S. I've always loved the look of the Extra and after having a WILD flight IN one, it was the perfect subject. It is painted after the full scale color scheme of my friends' Extras at Fighter Combat International, here in Canada and now in Arizona
It is built the same way as my Edge from last year, with the DA150 and Pefa pipes, and is equally quiet. It weighs in at 39lbs complete, and will accelerate out of a hover easily. The airplane really excels in the precision aerobatics, particularly in rolling maneuvers, and nice straight vertical lines, etc, while still an excellent 3D machine
On board is a smoke system, (simple, just a check valve and a servo operated valve) dual receivers, and all JR equipment 8411's on ailerons and elevators, 8 in total, except for a pair of Futaba 5301's for rudder. A pair of NIMH 2700mah batteries are running the receivers and servos, and a 2150 mah NIMH is running the ignition system.
The airplane is outfitted with a complete servo arm (long, for 3D throws) set from Sure-Link.
Sam also supplied a very well made rudder control system, designed just for the Carden 330.
This motor-airframe combination is an excellent
competition machine and I have flown it in airshows, funflys and IMAC competitions.
It is working better the more I fly it! Here are a few photos at a couple events, courtesy my friends Palmer Johnson and Chris Cheyne.
At the Chatham Ontario IMAC contest this summer. Chatham is my home town.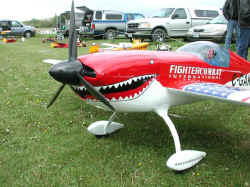 A big thanks to Dennis and Caroline for another super job!
Don McLellan
IMAC 2536
goneflyin@sympatico.ca
---
---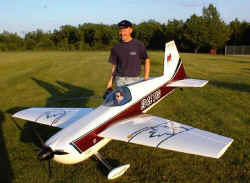 40% Carden Edge 540
DA150, twin Peva canister exhaust system, aluminum headers
28-12 3 Blade Air Models prop
CF spinner
JR10X radio, 8411's on ailerons and elevators
Multiplex Jumbo's on rudder
Sure-Link rudder linkage system, and all extended servo arms are Sure-link
Simple smoke system

For sure the best flying airplane I have ever owned! It is very versatile..

Will really groove well in precision flying and with the same set-up, is easy to 3D.

What a tough airframe! This one has roughly 100 flights on it (with a LOT of blenders, hehe) and is still good as new.

This plane was outfitted with a 'Peva' dual canister exhaust system in an effort to REALLY quiet it down. Noise is an increasingly important issue at most fields. With the complete pipe system buried in the motor box, and the 3-bladed prop, this airplane is exceptionally quiet for a big bird.
I am totally satisfied with this machine and will be building another one this winter!
Thanks very much Dennis and Caroline!

Don McLellan
IMAC 2536
Chatham, Ontario Canada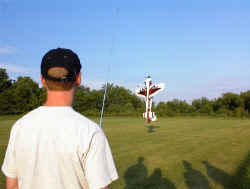 Having fun after contest rounds at the
Pontiac Michigan Can/Am IMAC contest
Don says he likes the Giant Scale planes because they are so versatile in their flight envelope instead of being a "one purpose design".
Don says "this flyin' stuff is a lifetime addiction"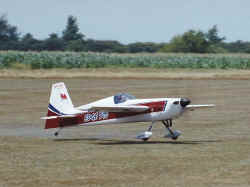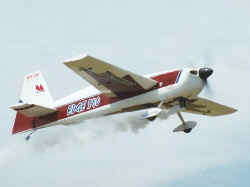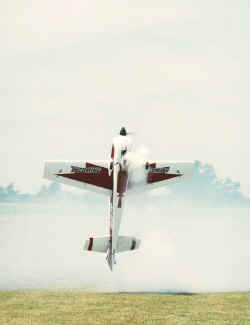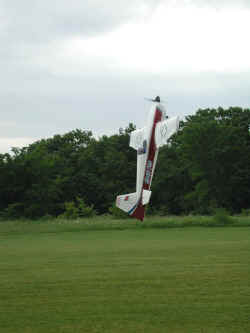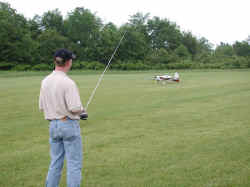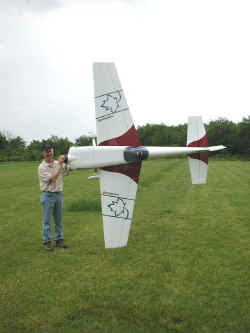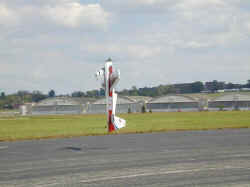 Don was one of the half time feature pilots
at the Dayton Fun Fly in 2001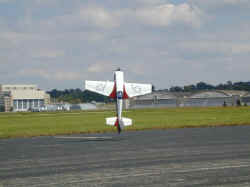 Here's Don at the Dayton Fun Fly in 2001