Carden Aircraft 124" Extra 300 prototype
Designed for Ultimate Precision Aerobatic Performance!
124" Wingspan, 119" Length 2728 sq.in. Wing area
38.9 lb flying weight with the following equipment::
Powered by DA-200-L, Silenced by KS-95 cannisters with 2 into 1 Y-headers.
Guidance by Futaba 14MZ / 6014HS Rxs, 8 Futaba S9157 digital servos, 1 Futaba 3050 on throttle
2-5200mah Fromeco Li-Ion Rx packs, 1-2600mah Ignition pack
Built and covered by Cam McCausey Competition Aircraft
Paint by Randy Jensen
Vinyl graphics by Daniel Rathbun
124" Carden Aircraft Extra 300 PRO
Flight Report after 2014 Scale Aerobatics NATs - July 7 - 10, 2014
Dennis and Caroline,
Thanks for working with me on the Carden Pro project in the Fall of 2009! For me, it was one of the most rewarding experiences in R/C. I really enjoyed working with you through the design process and have found great pleasure seeing so many Pros flying in IMAC competition.
Can you believe that the prototype 124" Carden Extra 300 Pro has flown over 2000 flights now and has been used to win five straight AMA Unlimited class National Championships and five straight William G. Bennett Cup Awards for flying closest to perfection in any class at the Scale Aerobatics Nats! It was very windy at the Nats and the Pro cut right through the wind. The plane is still in great condition - nobody believes it has been flown so much. I plan to compete again with the prototype Pro in the IMAC World Championships this fall.
After the Nats competition was over I let some of the other competitors fly my plane. Wayne Mathews (IMAC President) was was shocked at how the Pro tracks so well and how the snaps are so controlled and come out on a perfect line. After only two minutes of flight time he told me it was by far the best flying plane he has ever flown. The Advanced National Champion, Dean Lampron, also flew the plane and really really liked it. He told me his father had been talking with you about possibly getting a Pro kit.
I also wanted to mention that there were 3 Carden Pros flying at the Nats which all did very well:
Kurt Koelling - 1st in Unlimited
Will Berninger - 2nd in Unlimited
Chuck Edwards - 1st in Intermediate
The newer pilots at the Nats definitely took notice of the Pros capabilities!
I also flew Freestyle at the NATS with my 2007 118" Carden Extra 300 and finished 2nd against a group of highly talented kids all under the age of 20. I had not flown a single flight of Freestyle since last summer and had not flown the 118" Extra since last summer. Some how I was still able to put together a decent flight! Three different people came up to me after the Freestyle and told me that they didn't know a 40% Carden could handle the aggressive freestyle that I flew. I told them the plane was 8 years old and has held up to many many hard freestyles.
I will send you pictures in a second email.
---
124" Carden Aircraft Extra 300 PRO
Flight Report after 100th flight on July 8, 2010
My first flight report was in early April after only 6 flights on the prototype 124" Extra 300 PRO. With only 6 flights I new this would be an awesome flying precision aerobat, but only time and the opportunity to fly this plane in a wide variety of conditions would help me fully appreciate the precision aerobatic capabilities of this new Carden. I have now logged a total of 100 flights, competed in four IMAC competitions, and have absolutely fallen in love with my new ride!
I love how this plane penetrates through very bumpy and gusty winds. I am finding it much easier to fly clean wind corrected geometry and lines. During the four contests I have attended this season I have had over 20 different competitors provide me with positive comments like: "your plane really sits well in the wind", "tracks beautifully in gusty conditions", and "looks very smooth". I also find that it does not yaw as much into strong crosswinds which results in a cleaner sequence presentation and reduces workload during rolling elements in crosswinds. The thinner airfoil results in very crisp snap roll entries and the reduction in rotational wing mass helps start and stop the snap rolls quickly. I am also convinced that the thin airfoil helps me present a cleaner stall break during spin entries.
I typically fly this plane at very similar speeds to my 118" and 126" Carden Extra 300's on horizontal lines. This plane flies and rolls well at low air speeds due to the light wing loading. Vertical downline speeds are quite similar to other Cardens I have flown. In many respects this plane is similar in weight and total drag to the 118" Carden Extra 300. The 124" 300 has much thinner airfoils (reducing drag), but it also has much more wing area (increasing drag).
One of the very surprising aspects of this plane is the huge rudder authority (with a very small overall rudder area). I have dialed back my rudder to approximately half of full throw because I simply never need 100% throw. In the past month I have had the opportunity to fly this plane in 95 degree F, 90% humidity weather that often results in poor vertical upline performance. I am happy to report that the reduced drag and very low weight of this airframe allows it to perform demanding snap/roll combinations on vertical uplines with ease. I am confident that this plane could fly competitive Unlimited class aerobatics powered with a DA-150 because it would only weigh 36.5 pounds and the total drag would be comparable to the 118" Extra 300.
During the course of flying and testing this plane I have also flipped on the 3D rates (32 degrees aileron, 35 degrees elevator, and up to 50 degrees rudder). This plane is very stable in high alpha flight, rolling harriers, walls, flat spins, etc. and has more aileron authority than other planes I have flown. I believe this is due to the constant percentage of chord aileron design which results in larger ailerons near the root of the wing. The plane has also survived my high speed "wingcheck test" blenders which gives me lots of confidence in the wing structure!
In my 10 years of competing in IMAC this is the best precision aerobatic plane I have ever flown. I have had the best start to my season winning all four contests that I have attended. During my last flight of the 2010 Scale Aerobatics National Championships I logged my 100th flight on the airframe. It turns out that the 100th flight led me to win the Unlimited class Scale Aerobatics National Championship and the Bennett Cup for overall highest scoring percentage in the contest. There is no doubt in my mind that this plane has proven to have the capability to win at the highest levels of competition.
Special thanks again Dennis for agreeing to take on this cool new project. I really appreciate all of the time and effort you spent working with me. Also a special thanks to my good friend and builder Cam McCausey who provided very valuable input with airframe structure design and construction techniques. In my opinion Cam builds some of the lightest and straightest IMAC competition planes on the planet. It is really exciting to see our three way Winter collaboration project result in a true competition aerobatic winner.
Thanks again!
Kurt Koelling
---
Carden 124" Extra 300
Initial Flight Report
History: Last year (2009) I flew a modified 126" (43%) Carden Aircraft Extra 300 powered by a DA-170/RE3s with a significantly thinner wing airfoil and smaller tip chord that I had designed and sent to Dennis at Carden Aircraft in January 2009. I competed in four contests with this plane (won three and finished 2nd at the NATS in Unlimited). Only a couple of competitors ever noticed that the airfoil was so much thinner, but I had many people mention to me that my particular plane penetrated through the air very well and had very crisp snap entries and stopped on a dime.
Throughout the 2009 season I decided that I really liked the thinner airfoil significantly more, and that I wanted to design and fly a new killer precision aerobatic plane for the 2010 season. This new design would be based upon my experiences competing with Carden Aircraft Extras (two 118" (40%) 330s in 2003-05, three 118" (40%) 260s in 2006, two 118" (40%) 300s in 2007-08, and two 126" (43%) 300s in 2008-09). The new design would be enhanced to specifically make the plane the best possible precision aerobatic performer.
In late October 2009 I discussed the ideas with my professional builder and good friend Cam McCausey and wrote a detailed letter to Dennis Gergits at Carden Aircraft describing the new design concept. Dennis and Cam were both excited about taking on this new project. The new plane would have a wingspan of 124" with a thinner airfoil on the wing, horizontal stab, and rudder. A smaller cross-section fuselage would also be used (relative to the 126" (43%) Carden Extra 300). We also wanted to make this plane fully TOC, IMAC, and Clover Creek Invitational legal by keeping ALL measurements on the new design within 10% of the full scale Extra 300. The fuselage length would be stretched as much as possible within the 10% rule.
Dennis Gergits, Cam McCausey, and myself worked really well as a team and spent many hours on the phone discussing the airframe design and structure. I drew up the new designs on computer (as 2-views) so that we could more efficiently go through the design process. Approximately 20 design iterations later we had arrived at a final outline of the plane! Dennis then worked his majic by drafting the full size plans based upon his many years of experience and the coordinate positions I provided him from the 2-views. Cam McCausey was instrumental in making many decisions regarding structure since he has professionally built over 100 Cardens. During the building process of this prototype Cam did many flexural and load bearing tests on this new airframe to help guide some of the final structure decisions.
What did we address/accomplish:
1) A precision aerobatic plane that presents as a large scale aerobat (124" wingspan, 119" length).
2) The thinner wing as well as smaller tip chord are based on the new airfoil I had flown in 2009. This new wing is significantly thinner than any offered on previous Carden Aircraft giant scale aerobats. This wing penetrates through the air very cleanly, sits well in the wind, has very crisp snap entries, and presents a clear stall during spin entries. The thinner airfoil also reduces rotational mass in the wings (approximately 6 ounces lighter than the 126" (43%) Extra) which also makes starting and stopping snap rolls easier! The ailerons on this plane have more taper and are designed to have a dimension that is a constant percentage of the chord. The rolling characteristics of the new plane are great – it rolls very axial on both vertical and 45 up and downlines.
3) Reduction in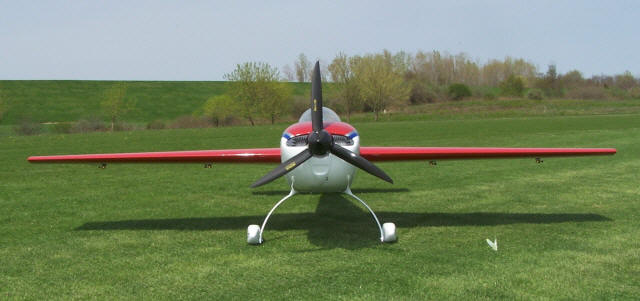 fuselage volume / cross-section to reduce drag and allow the use of a 3 bladed prop with outstanding thrust to weight/drag ratio. We chose to use the 118" (40%) Carden Aircraft Extra 300 cowl for the project since it has a smaller cross-section than the 126" (43%) Carden Extra cowl. My plane is powered by the DA-200 (which fits perfectly in the smaller cowl) with super quiet 2 into 1 headers and KS95 canister exhaust system. The plane could easily be flown in the most demanding aerobatic sequences with a DA-150 since the overall drag has been reduced!
4) In strong winds my previous competition aircraft have yawed more than I would like into the wind requiring opposite rudder correction to maintain a straight wind corrected line. To reduce yaw into the wind the side area and fuse volume behind the cg of the plane have been reduced. I am happy to report that the design change worked perfectly – the new plane does not over-yaw into the wind which presents much cleaner in a precision aerobatic sequence.
5) The motorbox has been increased in length behind the wingtube to accommodate a fuel tank mounted further back in the plane. This allows the fuel tank to be perfectly centered on the CG to eliminate any CG changes during flight.
6) To maintain a vertical stabilizer/rudder that fully met the 10% scale deviation rules meant that the height and chord of the rudder/fin would need to be reduced in size (relative to many planes on the market that have oversi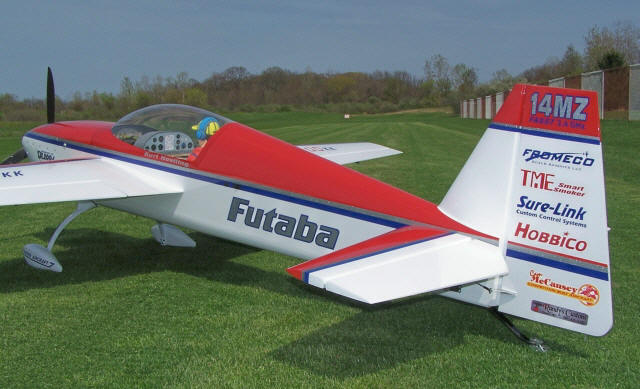 zed rudders that don't meet the 10% scale outline rule). Based upon 10% rule design constraints we decided to go with a rudder/fin system that doesn't have a helper/counterbalance. We were initially concerned that the smaller rudder may not be big enough for clean rotation on hammerheads. Surprisingly, the smaller rudder without a counterbalance has more authority than any other Extra I have flown. Hammerheads are very easy and the plane maintains knife edge flight with less rudder throw than on my 118" or 126" Carden Extra. An added benefit of the shorter vertical stab is that the plane exhibits even less pitch coupling!
7) With thinner airfoils on all the surfaces and a smaller cross-section fuse, we were able to design a 124" wingspan plane with a 119" length that only weighs 38.9 lbs with a DA-200 with lightened cylinder heads and KS95s with 2 into 1 Y-headers. With a non-lightened (stock) DA-200 and stock mufflers the plane would weigh 38.4 pounds. The same plane outfitted with a DA-150 or 170 with tuned pipes would weigh 36.5 pounds! We were concerned that this new airframe with thinner airfoils might have higher downline speeds. Surprisingly, the vertical downline speed appears to be quite similar to other Carden designs (most likely due to the lower airframe weight)
8) The plane structure has been designed in a way that significantly reduces building time. No diagonals are required on the fuse sides, gussets have been eliminated, and the canopy glass comes down to the top longeron allowing for canopy construction identical to the 118" Extra. The plane was constructed with a 1.5" PBG composite wingtube and PBG composite stab tube.
9) The super sile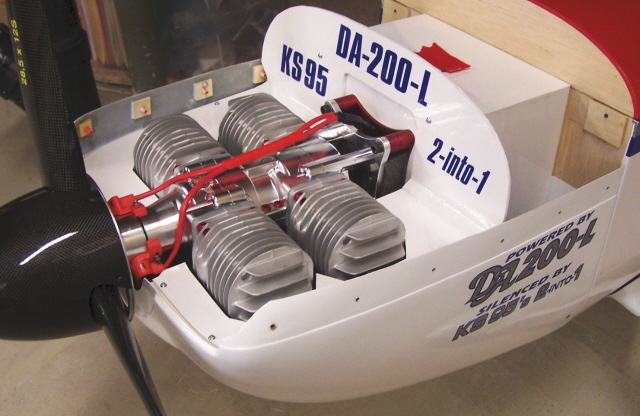 nced exhaust system coupled with the 3 bladed prop makes the DA-200 sound like a well-oiled sewing machine. I'm sure others interested in reducing noise will be turning this direction! I checked sound at 25ft, 24" off the ground with a radio shack meter set on dBA – slow setting and the meter read 92!!! Quieter than any 150, 170, or 200 powered plane I have ever flown.
To date I have six 15 minute flights on the new airframe. I have been spending most of the flight time trying different CG locations, trimming, adjusting control throw deflections, and trying to fly as many different types of aerobatic figures as possible. The first thing that was clear after the initial flight was that this plane draws very clean lines, and sits well in the wind (first few flights were in 15-20mph winds). The reduced drag allows the DA-200 to pull the plane around with ease (even with a 3 bladed prop). Snap rolls are very crisp and stop immediately when I let off the sticks. The reduction in pitch coupling reduces pilot workload significantly while doing rolling circles and rolls at the top and bottom of loops. I will report more as I get additional flights on the plane, but so far I have not found any bad tendencies!
I am really looking forward to competing with this plane at the NATS and Clover Creek Invitational! Thanks so much to Dennis for agreeing to take on this new project – it was a pleasure working with you and learning from your years of experience designing top notch aerobatic planes. Thanks to Cam who started building the prototype kit (cut motorbox parts himself) on Feb. 13 and had it framed up, covered, and painted by March 9 (3.5 weeks) – truly amazing dedication as a professional builder! The maiden flight took place on April 5, just in time for me to put the plane in the Toledo Show and take 2nd place in the aerobatic division! Overall this was one of the most rewarding projects I have been involved with. In six months we went from a design concept on a piece of paper to a finished plane that flies really well!
Thanks again Dennis and Cam!
Sincerely,
Kurt Koelling
Click image to visit the Extra 300 Pro Gallery