27% / 28% 50cc size Wing Bags
Fits wings up to 42" long, 26" root and 14" tip - $90.00
Fits our CUDA, plus many other 50cc size
such as Wildhare, Extreme Flight etc
Our 35% Extra wing bags and tail covers also fit the QQ 102" YAK
They are back by popular demand!
They are for the 46% Ultimate
Set includes 4 separate wing bags, two wing tube slots, and two strut pouches. All bags have 2 loops for trailer hanging.
Price for 4 separate bags is $250.00
F3A Wingbags

Great fit for the Focus, Brio and Temptation
Stretch cover gently over the airplane starting at the wing tips.
Attach at the front with the Velcro strap going under and around the spinner from one side to the other.
To Launder – Launder cover by washing it by itself in cold or warm water, or by machine using a "Delicate or Hand Wash" cycle. DO NOT use bleach. Cover will not yellow in the sun and bleach will break down its elastic qualities.
For Spots such as oil, use a spot removing product such as Spray & Wash, Shout or Oxi clean, and spray the spot only, then launder as above. Always remove the Velcro Strap and launder separately.

For questions or comments please feel free to contact Caroline at 423 295-2295.
Care and Cleaning- For normal dust and dirt take a white towel, wet it and rub over the wing bags. The outside fabric has a waterproof backing and although it will change color with the water, it will dry to normal color and not wet the inside of the bag. For oil and exhaust residue from the engine spray the effected area with a product like Spray & Wash, Shout or Oxi Clean. Then wipe with the damp wet towel or hose off. NEVER try to launder in a washing machine. Do not dry clean as it will affect the foam and harden it. Clean tailcovers with the same method. For the "MINI TAIL BAGS" for the horizontal stabs (if you have this product) take care not to scuff covering on the "ruff" side of the Velcro. Always put stab in carefully sliding it over the "soft" side of the Velcro. Any questions or comments, call Caroline (423) 295-2295. Enjoy your model and our products, and thank you for your order!
Wingbag Specials
We have several "one off" sets of " odd sized" Wing Bags
in specific sizes and colors.
Call Caroline for sizes and colors available
---
Order Ladies Apparel in the Online Store
---
Happy New Year to all of our friends
Dennis and Caroline
December 31st, 2006
December 27th, 2006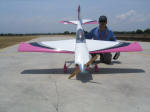 December 14th, 2006
December 3rd, 2006
December 3rd, 2006
November 16th, 2006
November 13th, 2006
October 27th, 2006
October 27th, 2006
October 27th, 2006
Mel Holtmans 40% Extra 330.
The plane now owned by Tony Cypert of Boling, Tx.
October 27th, 2006
September 27th, 2006
September 27th, 2006
September 27th, 2006
September 15th, 2006
September 14th, 2006
September 14th, 2006
September 14th, 2006
September 14th, 2006
September 14th, 2006
September 14th, 2006
September 14th, 2006
August 14th, 2006
August 14th, 2006
August 14th, 2006
August 14th, 2006
July 20th, 2006
July 13th, 2006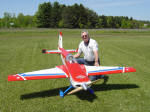 July 13th, 2006
July 13th, 2006
July 12th, 2006
July 12th, 2006
July 12th, 2006
New pics July 22, 2006
July 12th, 2006
June 7th, 2006
May 31st, 2006
May 31st, 2006
May 31st, 2006
Mr. Yamane, Japan - 40% Extra 260
May 21st, 2006
May 21st, 2006
May 9th, 2006
April 26th, 2006
April 22nd, 2006
April 18th, 2006
April 16th, 2006
April 16th, 2006
April 8th, 2006
April 8th, 2006
April 5th, 2006
John Mitchell YAK 54

Update and report - April 16th
March 29, 2006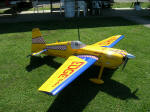 March 29, 2006
March 15, 2006
March 15, 2006
February 8th, 2006
February 8th, 2006
February 8th, 2006
February 8th, 2006Carden Edge 540
February 8th, 2006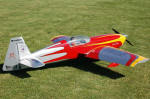 February 8th, 2006
January 31st, 2006
January 25th, 2006
January 25th, 2006
January 17th, 2006
January 12th, 2006
January 12th, 2006
January 12th, 2006
January 12th, 2006