March 23, 2014
Hola Carolina y Dennis, buenos dias!
How are you? Here all is well and happy! I'm sending you these pictures of my baby Yak 32%. Yesterday, Monday, 17 March, I premiered without any adjustment, a real gem!
This Yak was bought from you in 2007 in the month of August, and I built for a friend, and once built (only work in the wood) kept it for seven years! In December 2013 last year I bought it to make it longer mine. So I finished the task of the decor, painted, and installed the equipment. Yesterday was the premier of this beautiful plane and did not need any adjustment, as always!!
Here I give you the links that demonstrate the truth of what I write, and as always I congratulate you on your wonderful kits.
August 2007
http://www.rcgroups.com/forums/showthread.php?t=725827
December 2013- January 2014
Carden, the best in presicion aircraft.
Kisses and hugs!
Javier
p.s. the name of this wonder is Raquel!
---
July 30, 2012
Dennis,
Finally was able to get some pictures sent in.
37.5% Carden Yak built by Roger Nemitz. Covered by Roger Nimitz and Mark "Mikey" Jorgensen. PPG paint by Jeff Schmitt.
Graph Tech main gear, wing tubes and wheel pants. Pete's Models 5" CF
parabolic spinner with Mezjlik 32X10 CF prop. J & J titanium tail wheel
assembly. Covered in Monokote.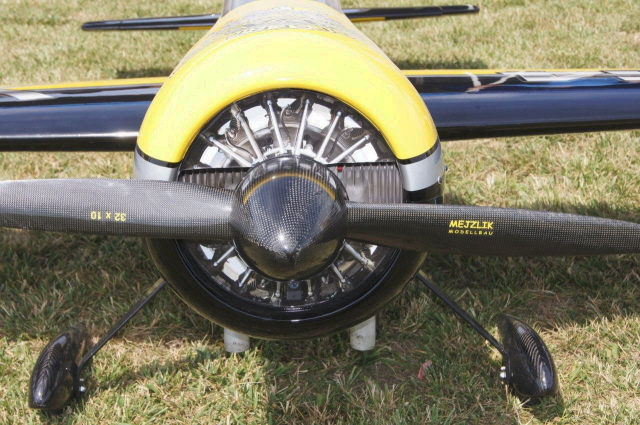 Flown with DA-150, 2-Fromeco Li-Ion 5200's on Futaba receiver, 1-2600
Fromeco Li-Ion on ignition. MPI Voltage regulators. Futaba 8FG Super radio.
5 Futaba 9157 servos on control surfaces with Rocket City hardware and
Hanger 9 servo arms. Futaba 3152 on throttle.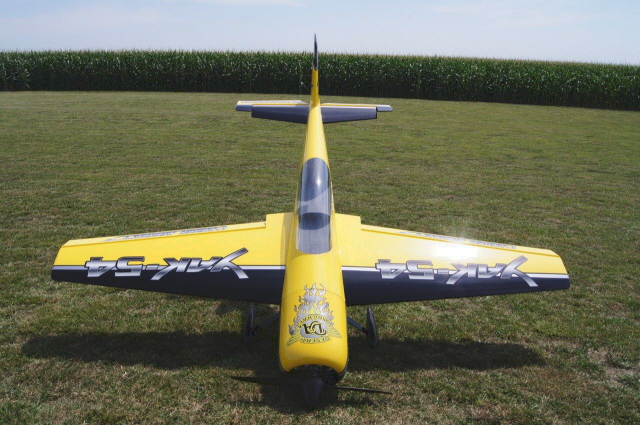 B and E graphics. Plane came in at just under 35 lbs.
Great plane Dennis! Flies great and defiantly is a crowd pleaser.
Thanks,
Leighton Smith
---
March 23, 2012
Hey Caroline, hope you and Dennis are doing well. I got sent this shot of me flying my Carden Yak last weekend in Mobile, AL. It was a great shot so I thought I would share with you.
---
September 22, 2010
Hi Caroline and Dennis,
I finished my Yak 54 two weeks ago. It took 4 months to build her.
The maiden went well, only one click of up trim.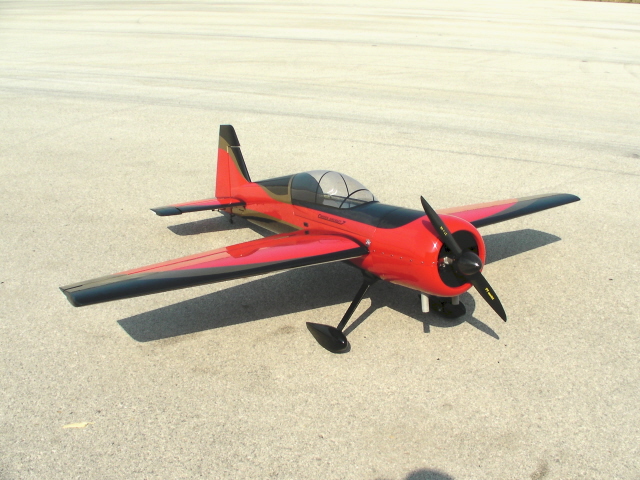 I had only 25 fflights on her. But I can tell that She is flying very well 3D.
My set up is tail heavy for 3D.
All I can say is WOW.
I cant wait to finish my new 40% Edge 540..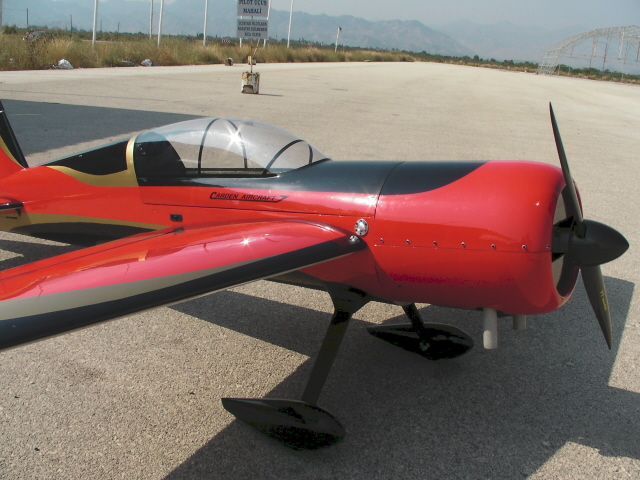 Here are couple pictures from today: Carden 32% Yak 54, 3W-110 CS

Mehmet,
TURKEY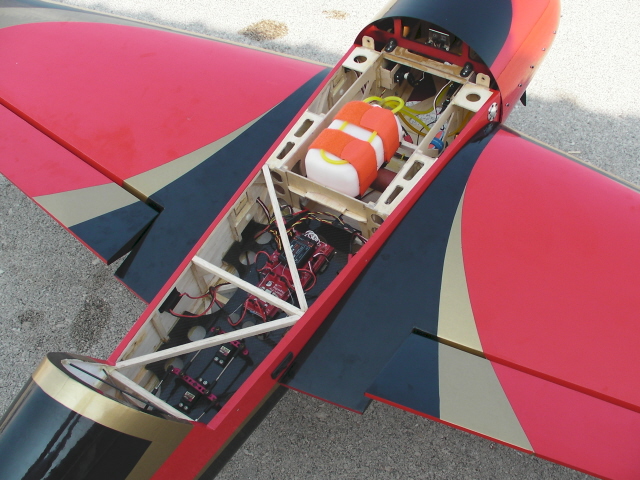 ---
June 2, 2010

Howdy y'all I test flew the yak on Saturday no problems. Flies great! Thanks .

Joe Buie
---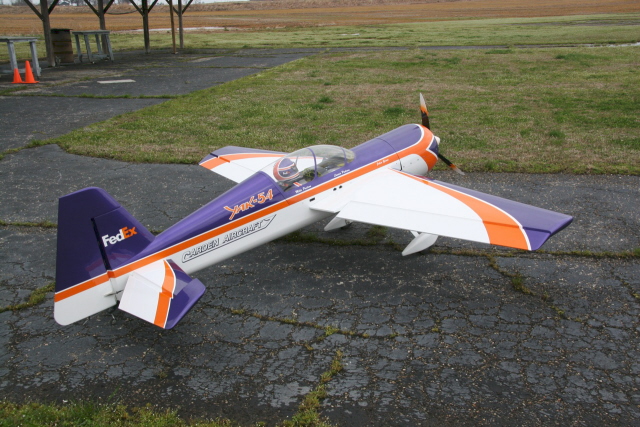 April 6, 2010
Here is the latest addition to the Padron hanger. It was built by Jim Short with graphics by Kirby's. She fly's like a big pattern bird - very stable and neutral - rock solid in high alpha too.
Congratulations, you've done it again! Many thanks,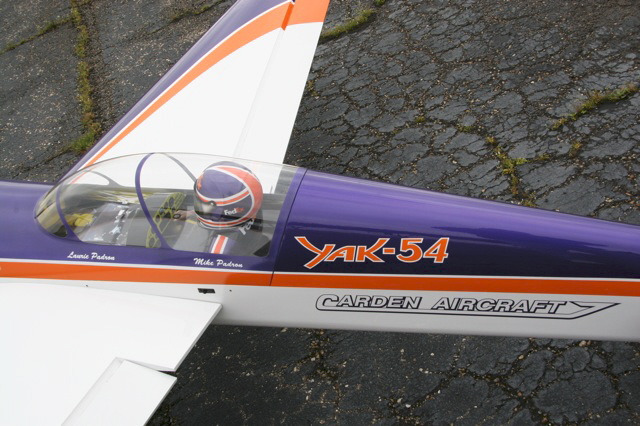 ---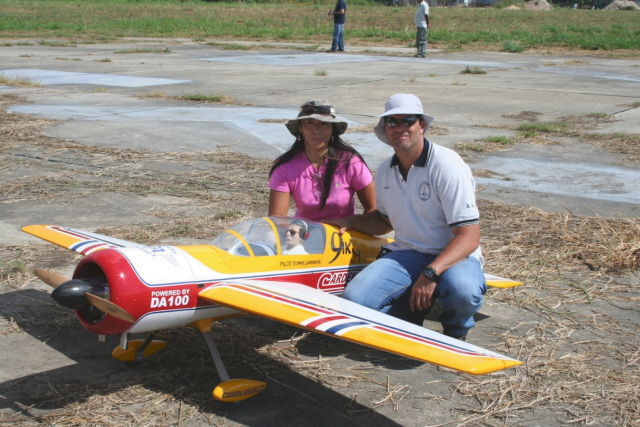 November 17, 2009
My warmest greetings to Caroline and Dennis. It's been a long time, although I'm always checking your website.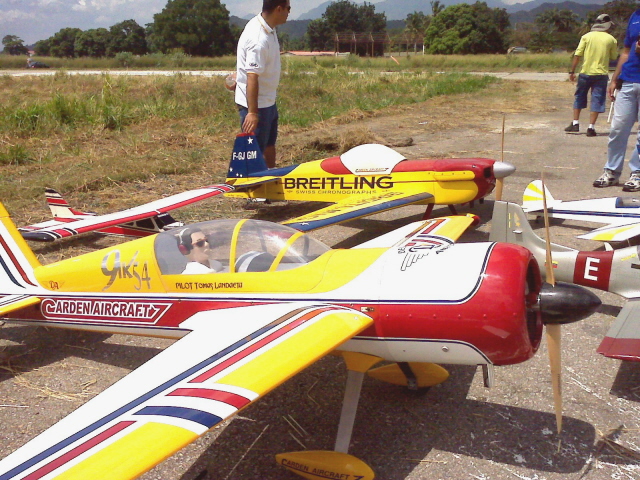 Last weekend, 11/08/2009, was my Yak 54's maiden flight. That day I two flights to get the feeling of it, but this weekend I got brave and here are the pictures so you can also enjoy them. Baby Yak DA 100 pulling it and all servos are JR 8611. TX is a JR 12X.
There are no words to describe how this plane flies, but you can say it in one: "Awesome." I also recommend your wingbags. They are the best money can get.

Thank you very much and best regards,

Tom Landaeta from Maracay Venezuela
---
October 9, 2009
Hi Dennis and Caroline,
Here are a few pics from the Bomber Field fly-in. Had a good time and got a chance to see some old friends. Not to many aerobatic birds at this event.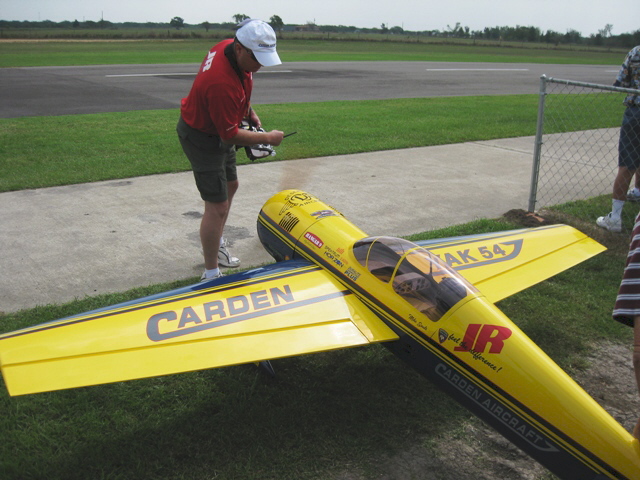 I was told that there are only two types of airplanes, war birds and targets. Those guys are so funny. How's the new edge coming along? See ya...........
Mike Sauls
---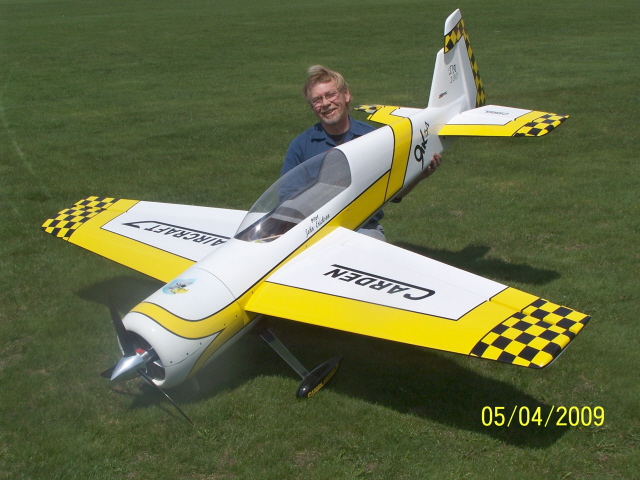 May 14, 2009
Dear Dennis & Caroline,
This was my first Carden build and I am really happy with the way it turned out. My maiden flight was on May 3 and it only took
two clicks of up trim and then it was hands off. It flew beautifully and the landings were spectacular.
The YAK weighed in at 29 lbs
4 oz. I recommend your plane to a lot of people who are also in the hobby along with the build sites on Flying Giants and John' Workbench.
I really enjoyed building your plane, which only took me from Dec. 17 to the end of April, and would definitely do it again.
Here are some pictures of the finished product, and there is even one with me in the picture.
If you want to share the pictures that would be fine with me.
Thank you again,

John Erickson
Tigerton, Wisconsin
---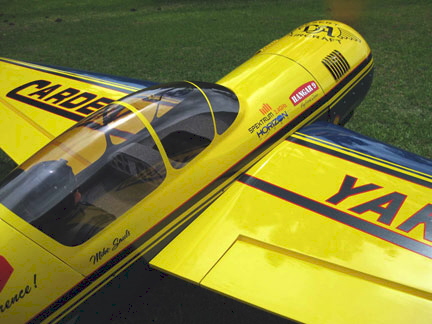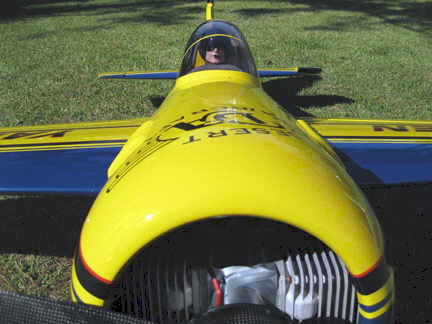 April 21, 2009,
I Just finished my new Yak. Haven't flown it yet but I think it will. As always no issues during the build: just need to do it more often.
This is the first one in several years after taking a break. Well, break is over and I'm back on my flying horse. Bird has a DA 150, Duralite batteries, JR radio gear that includes 8711's on all the surfaces with two 8711's driving the rudder.
We are using the 2.4 GHz radio system and it is working well. I'll have the bird at Joe Nall so you can do a walk around.