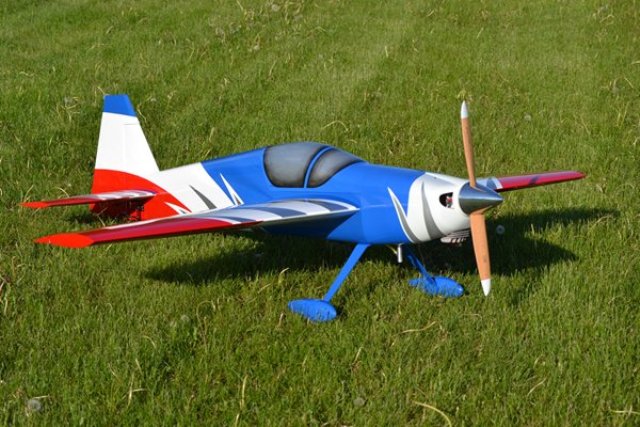 January 30, 2015
Hi guys. I've attached a few pics of my latest Cuda. This one is built from the last production kit you had available. Typical Cuda, DA-50, MTW canister, Smart Fly with FROMECO batts. Flies like a bigger aircraft.

It is the third one I've built, and I wanted to 'clean up' the exterior of the fuse, so I mounted all of the switches under the canopy, then made two spring loaded latches from brass tubing, wheel collars, and a spring. One of these on each side allows me access to the switches quickly and without tools. The front of the hatch is held in place like the 40% Edge with dowels. Works beautifully and holds the canopy securely.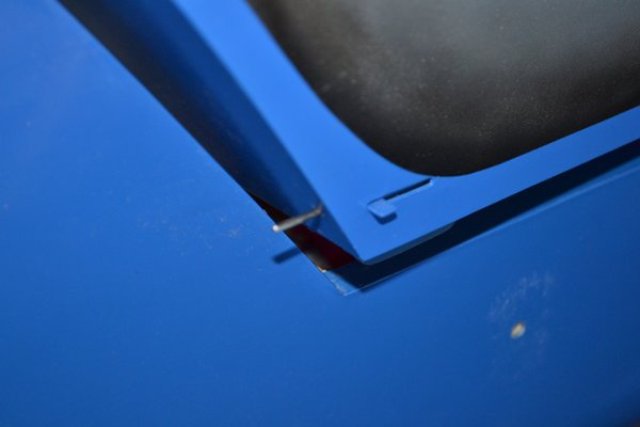 I also squared off the tips of the wings, rudder, and elevator similar to the Edge, and because I like the look, I added a counterbalance to the elevator.
The airplane weighs 16 pounds, but as the picture of the fuse internals show, it is full! With the wing area, it carries the weight fine.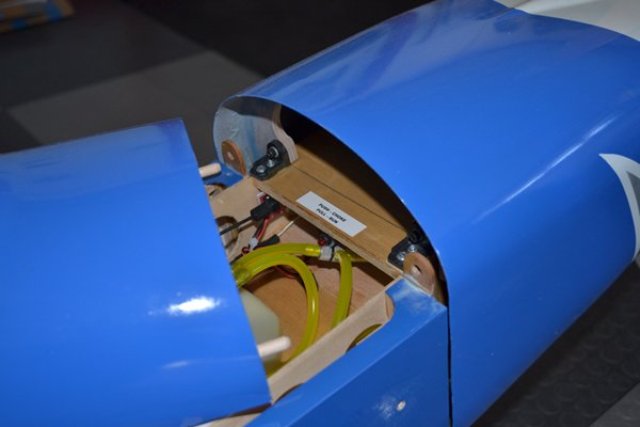 If you ever decide to make another production run of the kits, please put my name on the list. Thanks for the great products,
Paul Huls, Minnesota.
---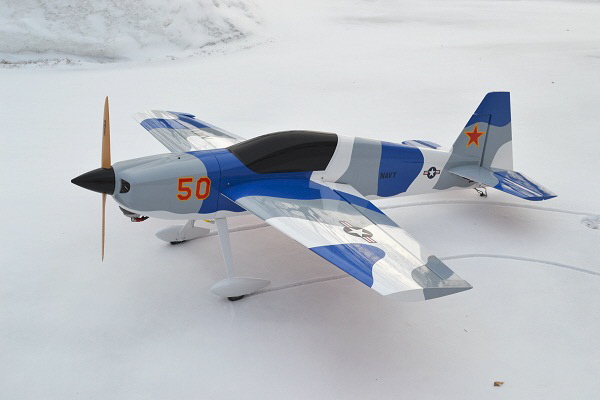 January 20, 2012
Hi Dennis.
Attached are a few photos of my Carden Cuda I completed last March. The kit was purchased on RCUniverse, and is the second Cuda I've done.
Wanting to do something a little different, I chose to do a Navy style aggressor color scheme, adding some white into it and calling it "winter camo". (The winters can be long here in Minnesota). Power is a DA-50, MTW TD75K canister, Hitec digital servos, Futaba Tx.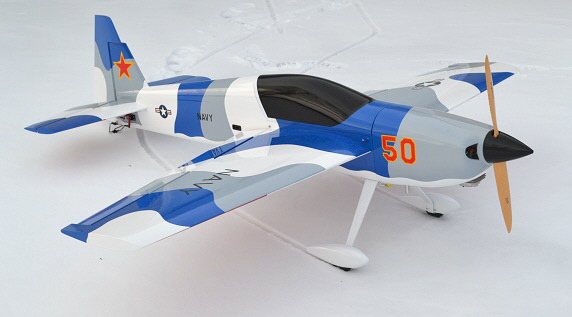 This definitely will not be my last Cuda. They build great and fly even better!
Keep up the great work.
Paul Huls, Avon, MN.
---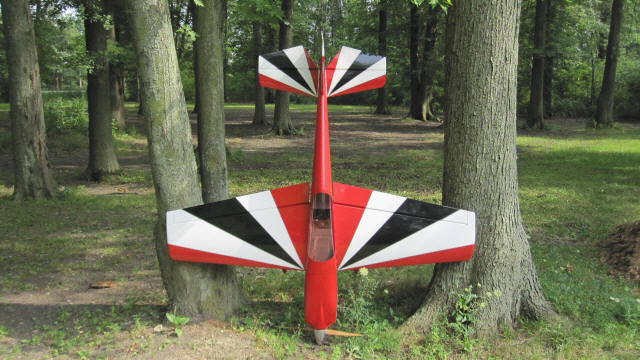 August 1, 2011
Hi Dennis and Caroline, just a quick note to say thanks for the kit and the assistance along the way. The Cuda flies great, capable of way more than I can do with it. Great fun to build, and definitely doing another this winter.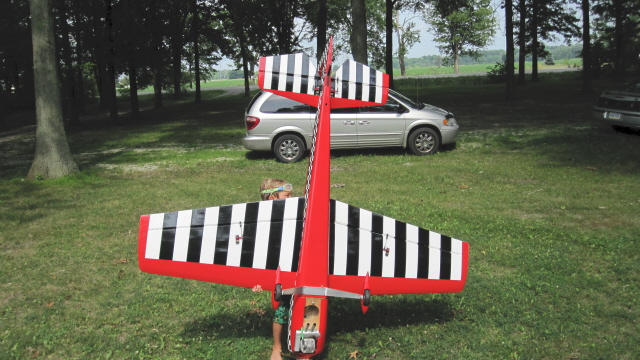 Here are a few pics of the finished plane.
Best Regards
Jason Paine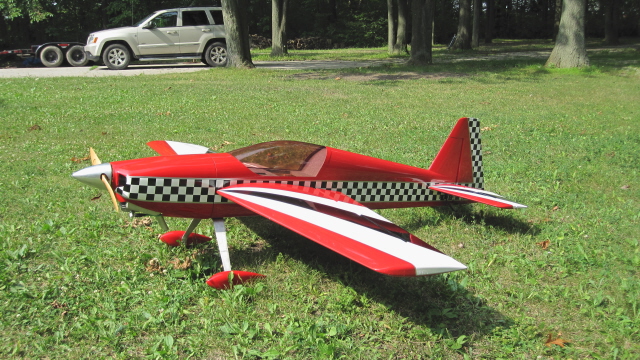 ---
September 29, 2010
Hello Dennis and Caroline,
Finally a few photos of my CUDA, MVVS 58 and a canister, Hyde mount, fiber glass, silk and dope paint finish; about 17+ lbs.
I really like how it flies.
Jerry Fiedler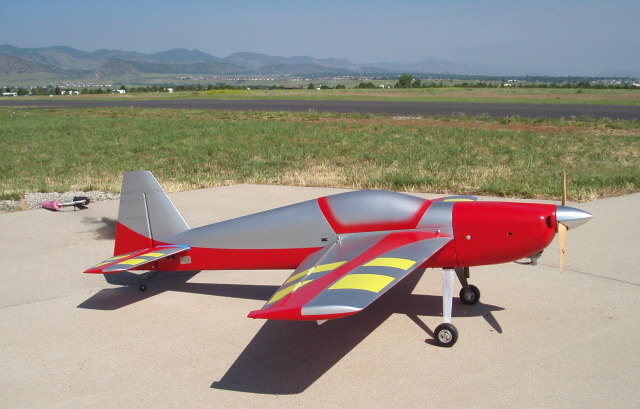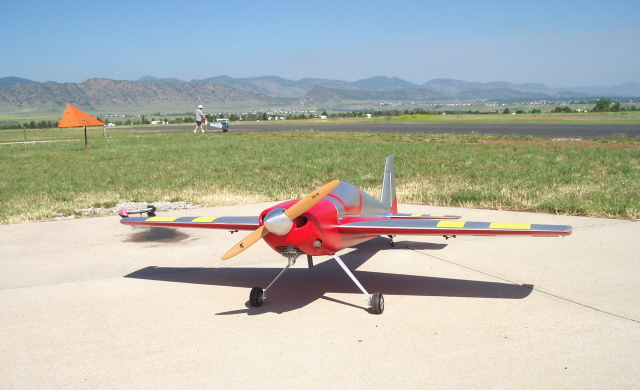 ---
January 23, 2009
Dennis and Caroline,

The next Carden is ready for the air. This one is another Cuda and it came out looking good in a Coca-Cola design.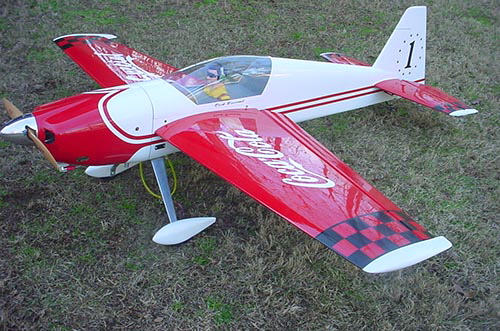 The proud owner is Dick Biscomb of Wedowe, Alabama.

It is powered by a DA 50R with a Spektrum 9303 radio system. 6 volts power the main system and 4.8 volts on the ignition. It has a TME smoke pump and Hitec digital servos all around.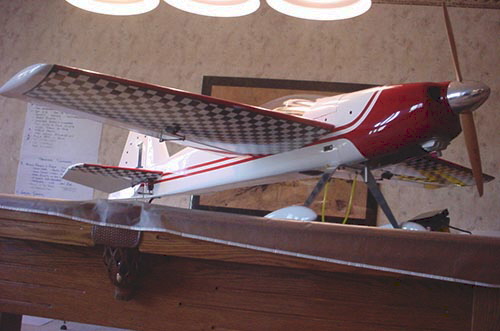 We will be giving it the first flight as soon as the weather allows and expect another fine Cuda. Thanks for your help on the pilot and dash panel, they fit just fine.

Brian Deis dream-rc-airplanes.com
---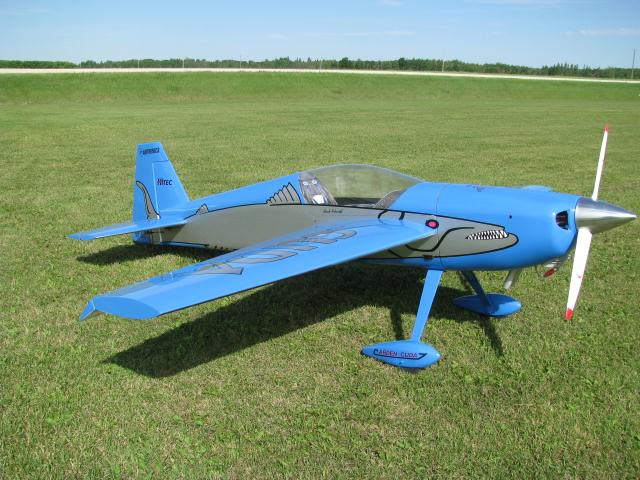 August 11, 2008
Just a few pictures of the finished Cuda. This was a very enjoyable and fun build. She flies like a dream. I know that I'm going to have some fun with this one!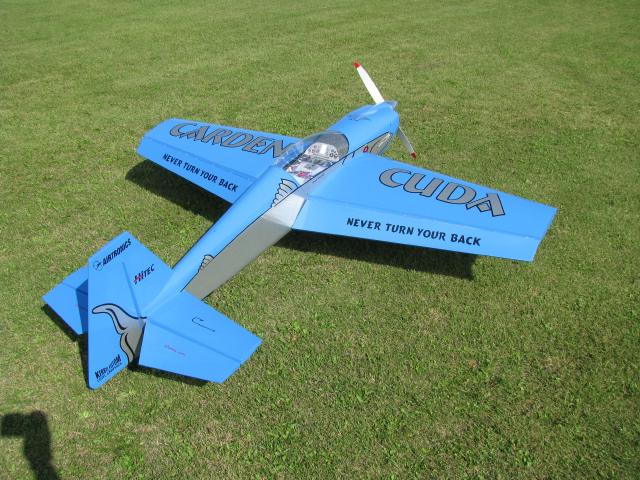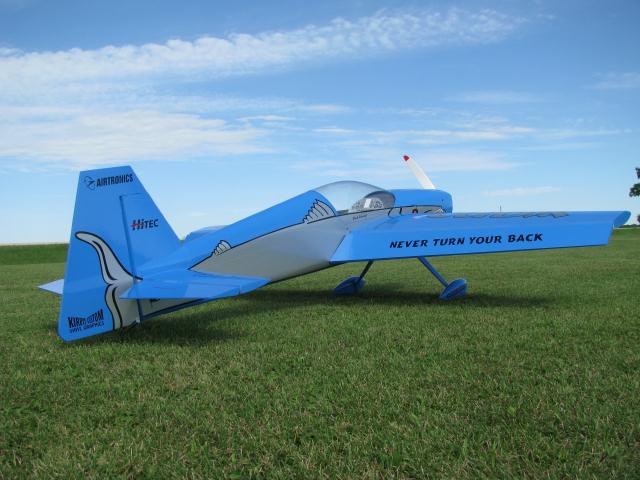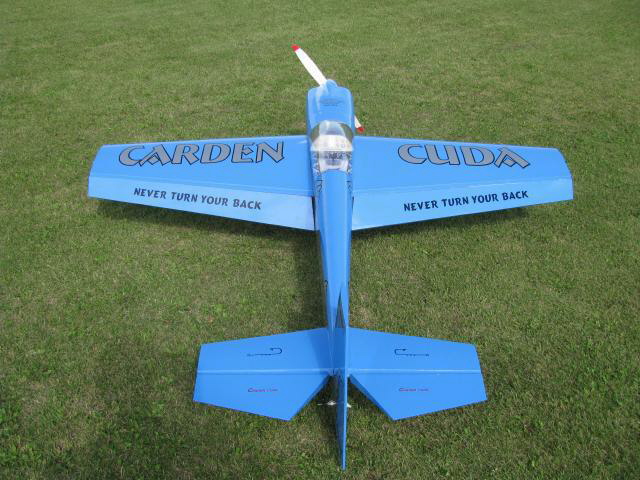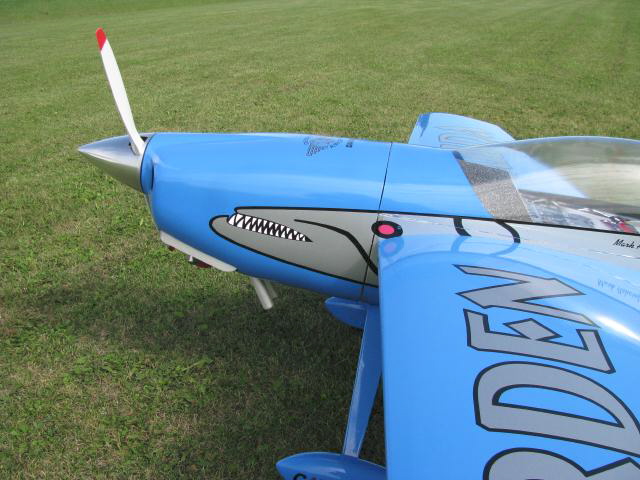 ---
---
March 26, 2008
Dennis,
Attached are shots of the latest Carden. It is a Cuda I built for a
friend but he turned out not to continue in the hobby --so it is mine.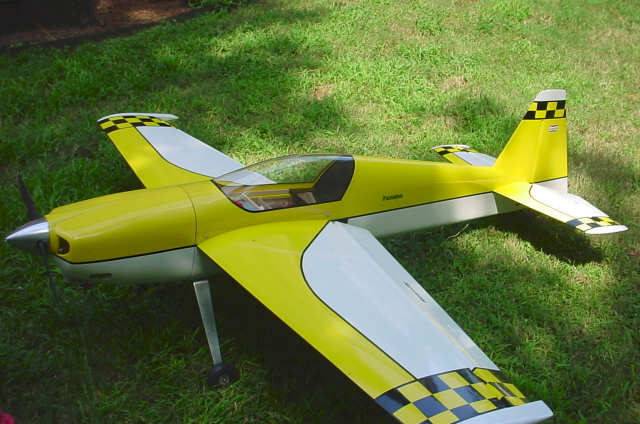 This is clearly my gain as it is a keeper. The size is easy to deal
with and the DA 50R with canister is a combination that is quiet and
super powerful.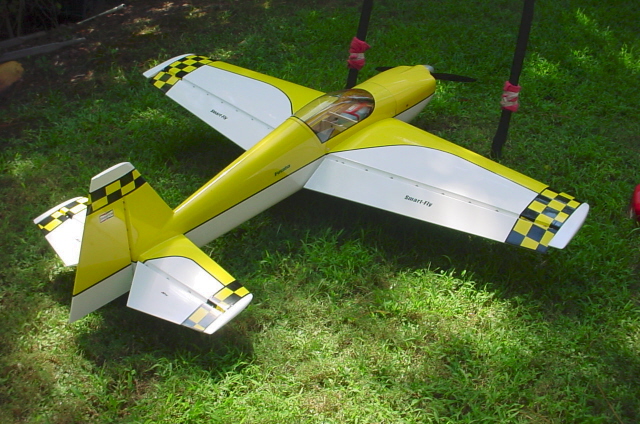 Flies like a bigger plane and it is among my
favorites. I will not be without one in the future.
Thanks for the help on the canopy problem, you guys are great

Brian Deis

---
---
December 14th, 2006
Caroline and Dennis
At long last my Cuda is done. I can't thank you guys enough. It is hands down the finest building, & flying machine I have ever owned.
I will probably order another one in the future, just so I have a spare. Hope I don't need a spare, but.........
Anyway, keep up the good work. I am one happy camper!
Bill Gagliardi
---
---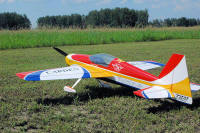 December 14th, 2006
Caroline and Dennis
New photos my Carden airplane-CUDA!
The airplane excellent!

I Soon shall finish CAP 232 40 %
Thank you!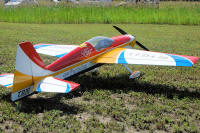 Best regards, Andrey Kucherenko
Novosibirsk, Russia
---
---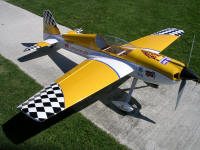 December 14th, 2006
Caroline and Dennis
Attached are the pics of my new cuda.
As you know its electric, running a Hacker A60 outrunner on 10S power, prop is a 24-12 APC. Ready to fly weight came in at 17.5 Lb.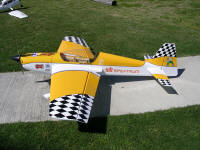 With only one outing I can tell itís a keeper. Lots of power and flies like its on rails. Clean-up at the end of the day is a breeze, just wipe all the electrons off the bottom of the fuse and pack it up!
Kirk Jensen
---
---
December 14th, 2006
Caroline and Dennis
Do you remember me, I am Claudius from Indonesia. Here are the pictures of me and my CUDA. I didnít have much time to build the kit, but finally itís done.
I really enjoyed building the kit, it was a real pleasure to build Carden kit.
The engine is DA50 and the Cuda perform 3D very well.
My next project is Carden Extra 330, hopefully finished before March 2007.
Best Regards,
Claudius
---
---
December 11th, 2006
Caroline and Dennis
I finally had some time and a nice day to take some photos of my "Harley-Davidson" CUDA. This started as my second Carden build but it was put aside for a few months so I could build and finish a different CUDA for a friend.
Hopefully when he gets some graphics on his he will send some photos of that one also.

It came out very nice. I now have completed 3 Carden's and currently have a 32% Yak on my building board.
I can't say enough about the quality of the design, kit and finished product as well as your world class customer service.
Thanks so much for your help along the way.
hope you have a very Merry Christmas and prosperous new Year.
Steve Stremba
Mohnton, PA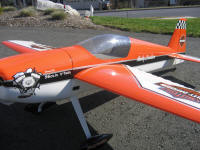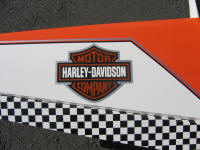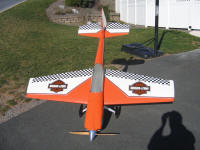 ---
---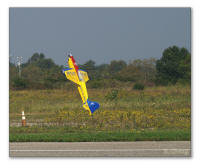 September 27th, 2006
Caroline and Dennis
Sorry this has taken so long to get to you, but it is hard to take pictures while you are flying! So let me thank Brian Chang for taking
the photo's at a local Fly-in.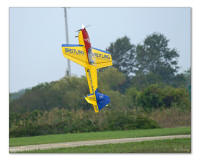 I am amazed that every time I take the CUDA to an event, I get more
questions and comments about the CUDA than I do about a 40%. The Cuda just flies so light and does everything that is asked of it so well,
that people who see it want one. Not only does it perform amazing, but it looks great and does it all with a DA 50, so it just sips gas. The
perfect plane for economical practice of 3D or Sequences.




Everyone who I have let fly it has the same reaction - it feels like a
plane that is much bigger than it actually is. I would have to say this
plane is a must have for someone who is thinking about moving up to gas, or someone who doesn't always want to lug a 40% to the field, but wants to practice with something that feels like a 40%.
Under the Carden forum or RC Universe I have a CUDA build

http://www.rcuniverse.com/forum/m_3621466/tm.htm
Since John Mitchell had already done a CUDA build on his web site I just highlighted area's where I thought were a bit different.
Thanks for all of your Amazing Flying Machines!
Rob Teseo

---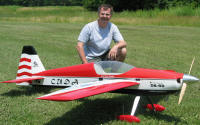 August 14th, 2006
Caroline and Dennis
As promised, these are photos of my new Carden airplane - CUDA.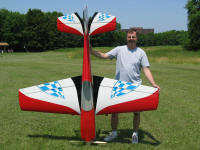 When I brought this airplane to the flying field I heard: "Wow! Peter you did it again. This is the most beautiful Carden airplane I have ever seen."
The CUDA looks good and flies good. I will have a lot of fun with this one.
Piotr Niedoba.
---
---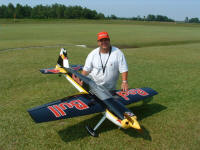 September 30, 2005
Hi Dennis and Caroline,
Here are some pics of the CUDA, the plane flies great. I am going to have fun with this one.
Thanks for a great plane, can't wait to finish the 260!
Chris Calhoun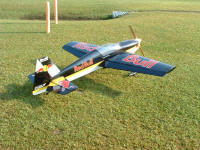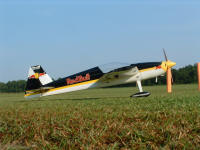 ---
---
September 30, 2005
Hi Dennis and Caroline,

Attached are some pictures of my finished CUDA.

I would like to say a special thank you to Doug Yaroch for all of his help. Without him I'm not sure I would have finished this project, but after countless emails, phone calls, and several visits to his house, it's finally finished and I think I'm ready to fly it.

Thanks again!
Steve Doubek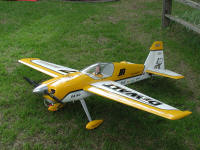 ---
---
April 25, 2005
Hi gang; Here's a great pic of my CUDA
---
---
April 25, 2005
Thanks to you Carolina..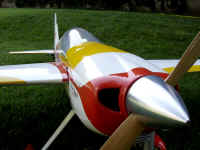 simply you manufacture the better airplanes of the world! !!!!
The premiere ( first flight) was marvelous, no adjustment was necessary, all was very well
Carlos Roman Hernandez ( my builder) and me in the premiere flight.
Thanks, Javier Sierra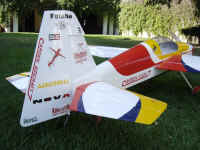 ---
---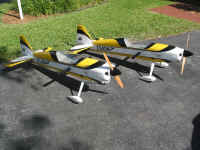 April 25, 2005
Hi Denis and Caroline,
Just a short note and update. The second CUDA had its maiden flight on Friday with the same results as the first CUDA - great flying planes.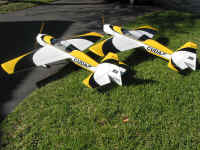 I have attached a couple of new pictures of the planes - the first two show they are twins in every respect except for the pilot names on the canopy!!
The graphics are on - thanks to Kirby Kustom Graphics - and I think they are looking pretty good.
Once again, Thank You, for another fantastic flying plane.
John Mitchell
April 12, 2005
Hi Caroline and Dennis,
The wind finally calmed down this weekend and I was able to get the Carden CUDA out to the field for its first flights. All I can say is tons of fun ! .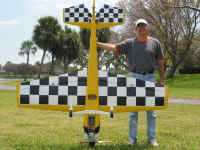 The plane rolled out and took off with plenty of power and no trim clicks required. The DA50 with MTW canister and header pipe is very quiet in the air with great authority and power. JR8611's on all control surfaces
The control surfaces are big and even at medium rates will allow a controlled snap roll in a blink of the eye - stopping on a dime.
Still need to get the black MonoKote on the tail feathers and some graphics to finish the project.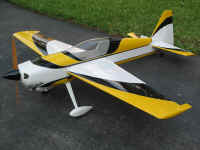 Thank you for another quality high performance plane - you truly know how we like them to fly - the extra time and effort taken to make the CUDA design fly like its name demands was worth the wait.
The construction of my new Carden 40% Extra 330 is going to wait for awhile because next up is the Carden 40% YAK with full construction article - until the brown truck shows up with the YAK it is time for flying.
Should have everything completed over the next several days. Some additional final assembly pictures will be added to the construction article. Finished pictures will follow and a lot more flying :) and seeing what it can really do.
John Mitchell
Very Happy Builder and Pilot
Many thanks to John for his CUDA construction project which you see at his website www.aeroprotect.com
---
---