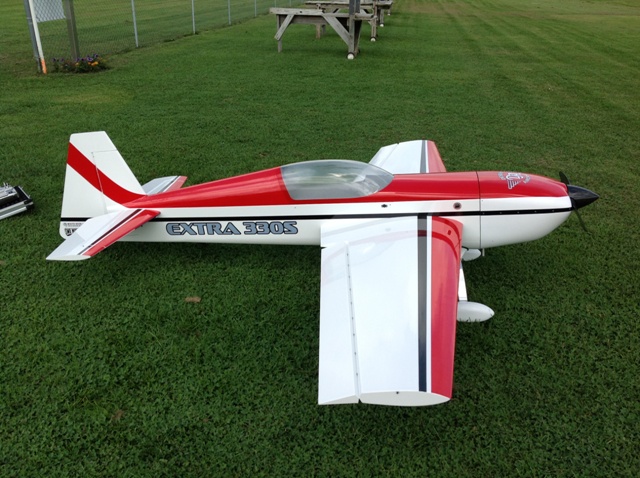 July 19, 2013
Dennis,
I just thought you would like to know another one of your wonderful planes is built and flying. Crisp and responsive is how I would describe my 35% Extra 330SÖI love it!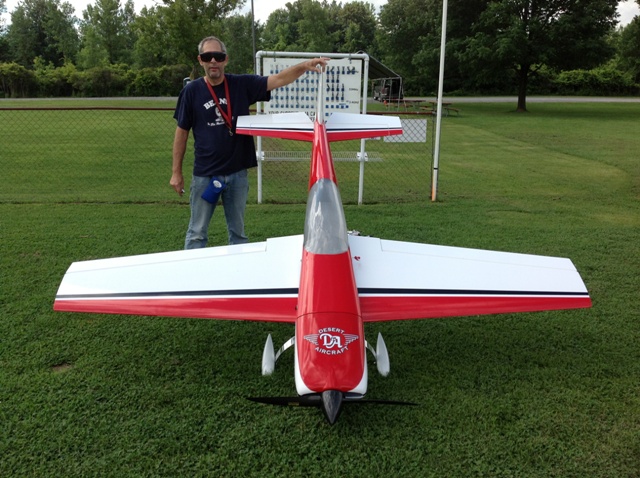 I hope to build another Carden aircraft soon.

David Perkins Rochester N.Y.
---
June 30,2013
Hi Dennis,
This is Darrell Biser and I thought it would nice to send you a couple of pictures of the Extra 330 I built over the winter.
The graphics were done by Dennis Kirby.
---
May 15, 2013
I know Iíve been promising pictures of my new 35% 330, but I wanted to wait until the plane had its maiden flight. Well, the weather finally gave me a window of opportunity and the flight went about as well as one could expect.
Trimming required 1 click of down elevator and 2 clicks of left aileronónot bad for a first build. After the build was complete, a re-check of the incidence was showing slightly under Ĺ of a degree difference in one of the stab halves, so it might be from this. Anyway, after the first flight, I checked bolts, leaned the engine a bit, and flew a second time, this time with some aerobatics.
You obviously know all about building aerobatic machines and this is probably redundant, but this plane is going to be an excellent tool for me to learn and grow through the upper levels of IMAC, not just the basic/sportsman classes. I truly appreciate your advice along the way, and Iím sure Iíll have another one to build before too long. The plane has a DA 100, came in just under 29 pounds, and I covered it with Ultrakote and the paint I used was matched PPG.
The paint was my first time with auto paint, and Iím glad I did it, as I learned a ton in that process as well. My favorite part is actually the bottom of the plane, as I copied Hueffemeirís 330. The pictures with me in it were from the first and second flights, so feel free to post any of them if you have time.
Thanks again,
---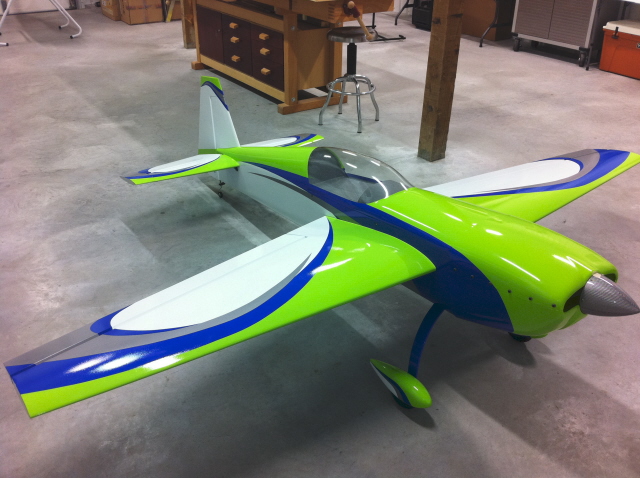 April 20, 2013
Attached is a picture of my 104" Carden Extra 330. Finally got to spray a little paint on her. I finished this with glass cloth, resin, primed & painted it to match the 50 cc Hangar 9 Carden Extra. Have not installed engine or radio gear yet, plan on putting a DA 120 when the time comes available. Thanks, Clyde Huval
---
July 22, 2010
Hi Dennis and Caroline,
Hope all is going well. Finally, yesterday the stars aligned and I took the plane out for its first flight. It has taken a long time to build this one mainly because of a lot of traveling for work and I decided to wait for the new DA-120 to become available.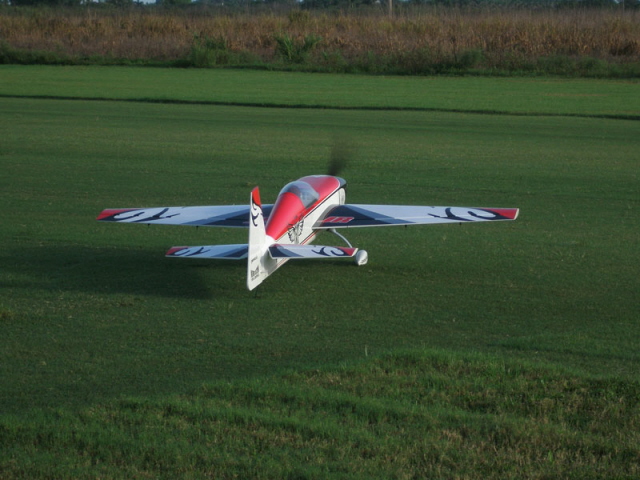 The DA-120 is a half pound lighter than the 100L and 3/8 of an inch shorter so it took a little moving around to get everything to line up and the CG right but wow was it worth it. The flight was awesome the engine was incredible and very strong (a perfect match to the 35% size plane) the down lines with the Mejzlik 29 x 10S prop looked like the brakes were being applied!
I am running a DA-120 with Mejzlik 29x10S prop and MTW 75 canisters, Fromeco batteries, regulators, and switches, JR equipment 8611ís all around except for a single 8711 on the rudder in the tail with a direct connection.
You were right to get everything to balance only one 8711 on the rudder is all you can have because of weight. Of course Kirby once again did a great job on the graphics for me. The graphics are going to look similar to my last plane the 40% Carden Extra 300 with the eagle drawn by my daughter Kelly.
It is always a pleasure to build your planes because of the quality and attention to detail in the design and materials. When the plane takes to the air it is always worth the time taken to go through the build process. This is the 10th Carden I have built and flown and as with all the others still smiling after going flying. I have my eyes on the Ultimate as you get that design ready for production.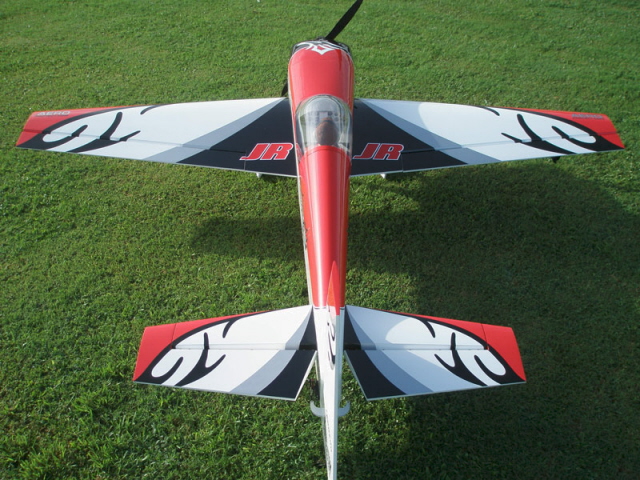 Thank you, take care and talk to you soon.
John Mitchell
---
June 8, 2010
Dennis and Caroline,
Here are two pictures. The first is of me and my Dad, he was a big help in getting the aircraft covered. The second is of my aircraft and my friend Robert Cottell Jr.'s 35% Carden Edge that he finished a year and a half ago. Robert was also a big help in getting the aircraft finished and ready for its maiden flight.
The maiden went great. Only 1 click of right aileron. Thanks to Will Berninger for building a straight aircraft. It may have taken me 2yrs to get the equipment and finish it but it was well worth the wait. It is by far the best flying and tracking aircraft I have ever owned. As of today I have 10 flights on it and will be flying it in Intermediate at the Jackson Mi IMAC contest this coming weekend. Thanks for a great flying aircraft.
---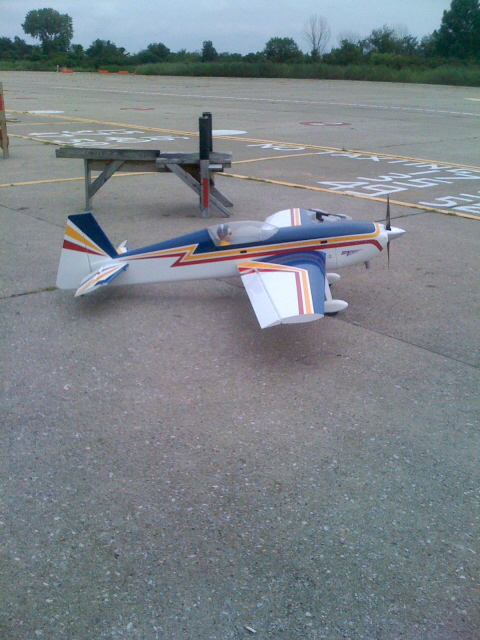 November 14, 2009
Hello my name is Joseph Battaglia. I've been a an avid modeler since I was a kid. I have a Carden Extra 330 that was my uncles. It was his pride and joy. He passed away in may and I was given the plane by my aunt. He loved this hobby and this plane with all his heart. I have not got up enough nerve to fly it yet, partly because it is so beautiful and it has a lot of sentimental value. I just wanted to tell all the people at Carden Aircraft what a wonderful product they make and how they bring joy to people around the world. My uncle would have said the same! Once again thanks and keep up the good work.
J Battaglia
---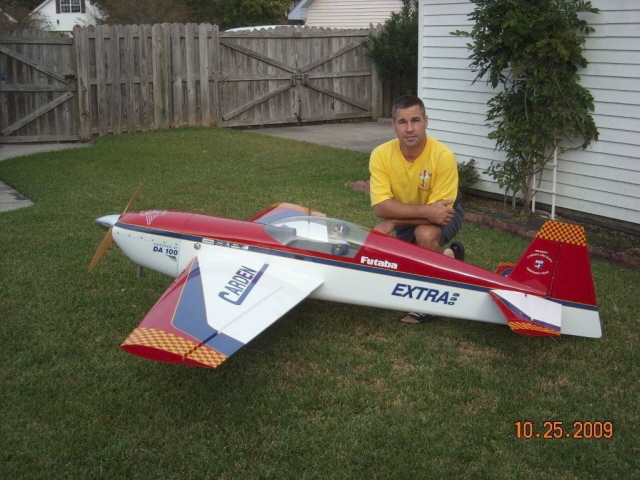 October 26, 2009
Here are some pictures of my Extra 330S/35%. This is from the 1st run of the 35% Extra. This was my 1st Carden kit that I have built. It was a very easy kit to build as the finished airplane speaks for itself.
The set up for it is as follows, powered by a DA-100, Futaba 50/50's(2) on the rudder, 5955(2) on the elevator, and 4- 5645's on the ailerons.
Weight of the plane is 27.5 lbs.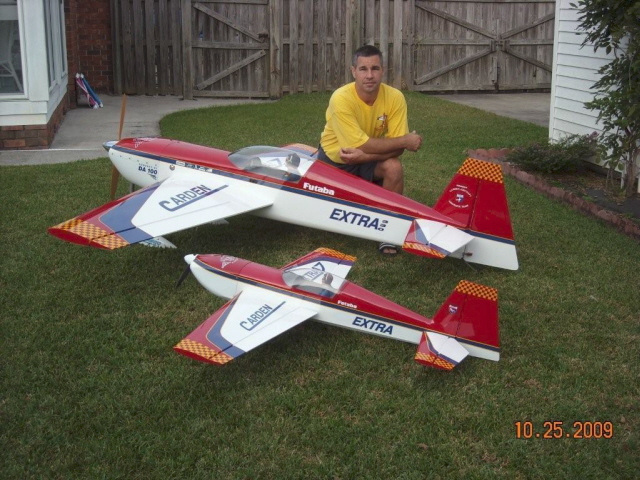 It has Fromeco batteries(2). Covered in Monokote and PPG automotive paint for the cowling and landing gear. All SWB servo horns and pull pull system for the rudder. I have several flights on it and it is a dream to fly, goes where you point it.
The smaller Extra pictured is a Great Planes Extra 300SP ARF that I recovered and painted to match my big Extra. Hope you enjoy the pictures as much as I enjoy my Carden. Best wishes and thanks for a great product.
---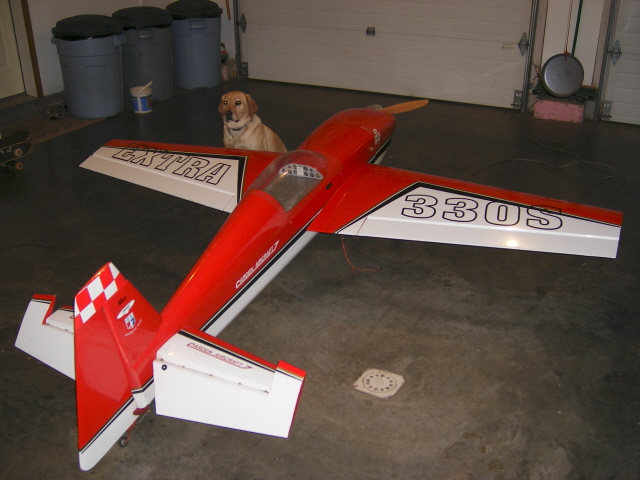 October 6, 2009
Thanks for all your help. Here are some of the pictures of the 35% Extra that I rescued and undertook a full overhaul and recover job.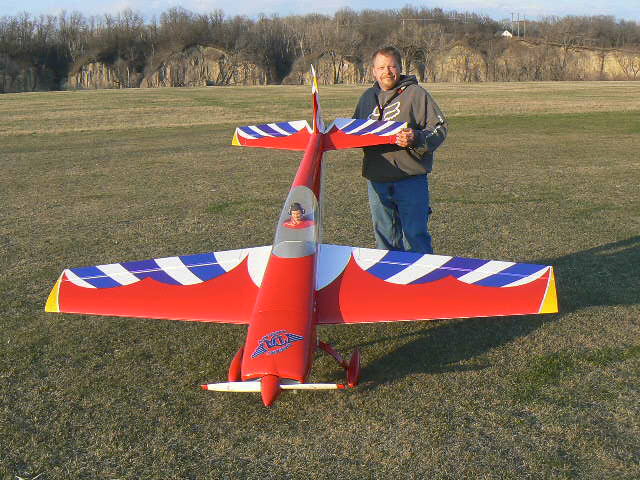 It's my first Carden, which after flying makes it the end of anymore ARF's for my giant scale future.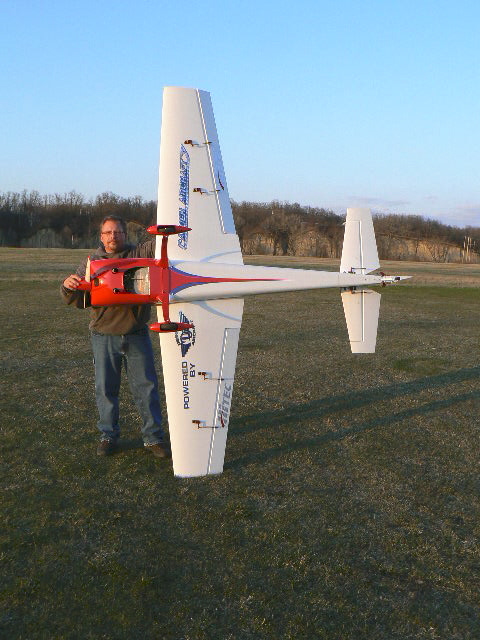 The first shot is what it looked like before the overhaul.
---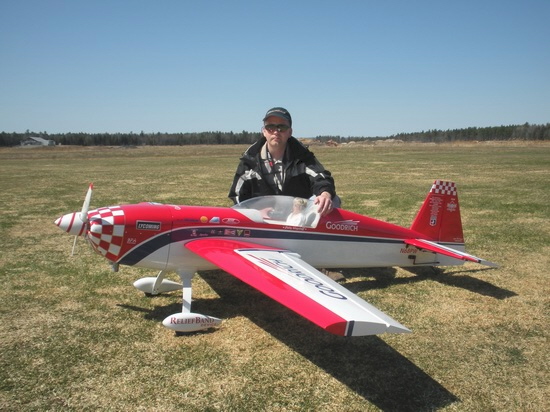 May 21, 2009
First off, I just wanted to thank you both for providing such an awesome kit. The quality of the plans, the selection of wood and the precision of the cuts is hands down the best in the industry. My 35% Extra 330S turned out really great. I was so impressed with your kit, I made a build thread on our Canadian Rc Forum, RcCanada.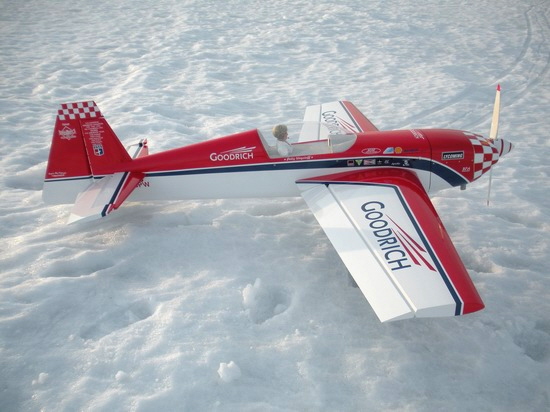 After extensive lightening, my DA100 equipped Extra 330 came in at 25.9 lbs. I am running Hitec 5955`s all around with a JR8711 in the tail for the rudder. Guidance is JR12x. I got a local here in Canada to paint me up a "candy cane" spinner and litepilots.com supplied me with a Patty Wagstaff pilot to finish it off.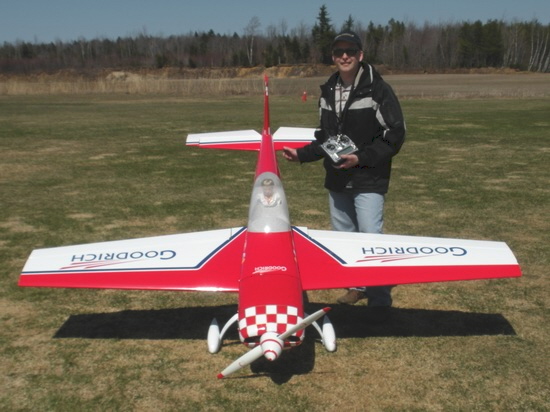 I now have about 20 flights on it and it flies amazing. I have no mixing for straight knife edge, it 3D`s awesome and looking forward to our first IMAC event for 2009.
Thanks again for the great kit. Once you build Carden, you will never build anything else!!
---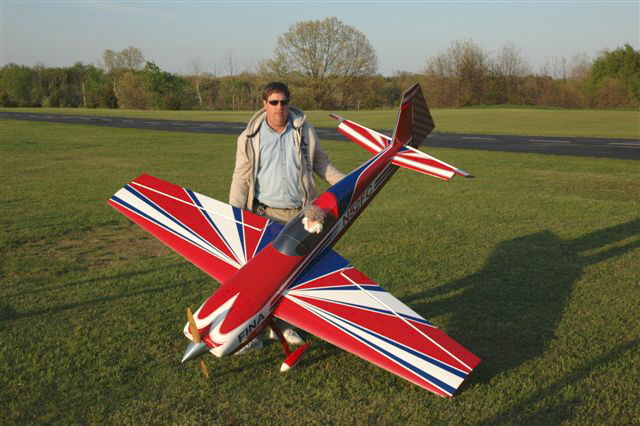 May 13, 2009
Dennis,
Finally go around to finishing my Extra. Between moving, loosing my job and nursing a bad back...its done! The colors are based on a UK Full size
aircraft I found on the net. Ultracote, and Ultracote paint.
Has a DA100 with MTW Canisters. Tomorrow will run engine and check every thing out. Hope you enjoy the pictures, I will send more from the flying field during
the maiden.
Sincerely,
Michael Beckman
Vice President
Hamburg Flyer's R/C Club
Hamburg, Michigan
---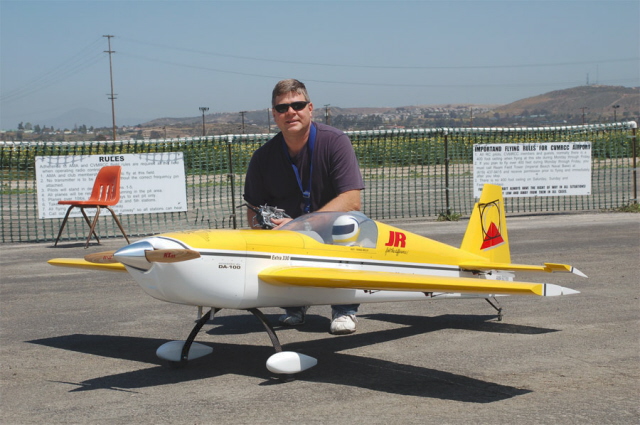 April 7, 2009,
Hi Dennis,

finally got the 35% Extra 330 finished and it flies great. I've only got 5 flights on it so far but wanted to drop you a note and say thanks for a great kit.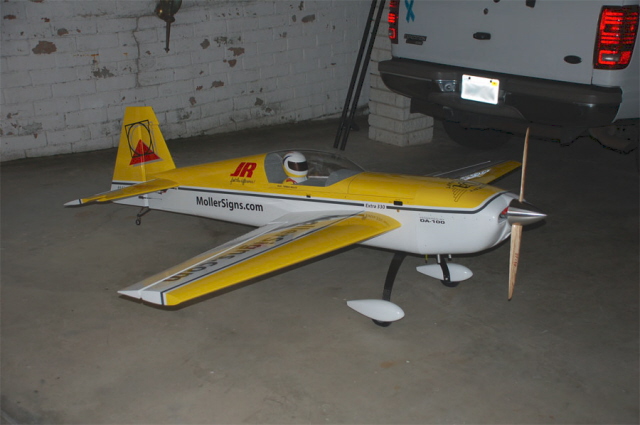 Ended up having a friend of mine frame it up as I was getting no where on the project. Once it was framed up I got into finishing it.
The DA-100L has ample power to pull it vertical.

Sincerely,
Thomas Moller
---
February 3, 2009,

Dennis & Caroline,

Been a few years since I've had a giant scale plane. I've been distracted by pattern competitions and turbines. Glad I chose a Carden kit for my re-entry into giant aerobatics. Maiden and subsequent flights were totally uneventful as I would expect. I only squeezed in five flights, but already I can tell the 330 is great flying plane and I think I'm going to like it better than the 35% Carden Edge's I've had before. Thanks again, pic attached.

John Willman
---
October 3, 2008
Well here it is ! Only took me 100 years to build! Anyway Thanks so much for all your help and advice. I learned a lot on this one.
All is well here. Patty has lost 70 # now, I'm starting to get a gleam in my eye when I look at her!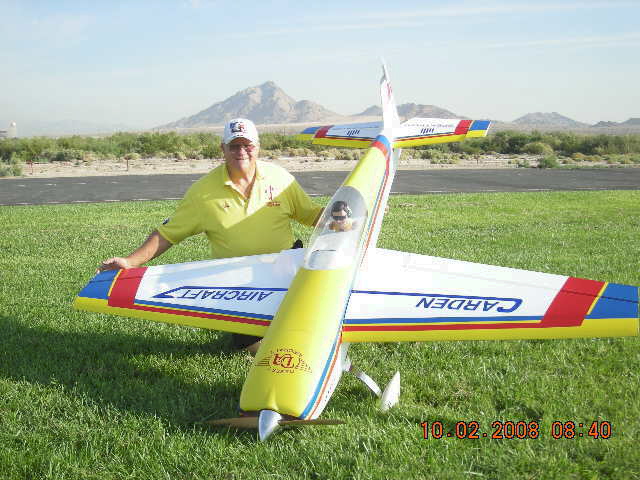 Talk to you soon, Maybe in Tucson. Big T
---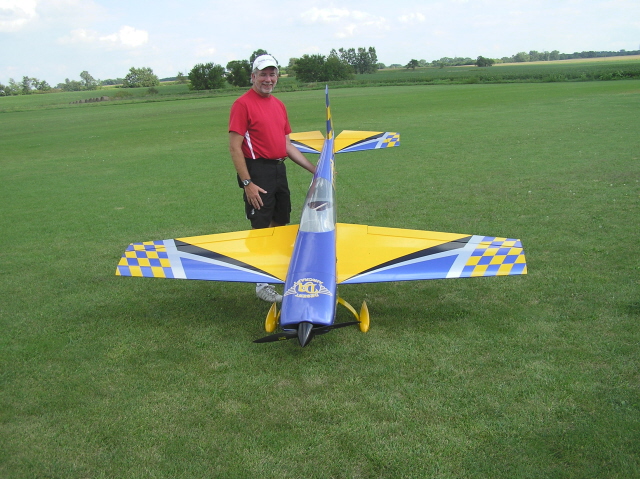 September 16, 2008

I maidened my back-up 35% Extra 330 yesterday. After flying my primary Extra in

IMAC

for the past

three seasons

, I decided to get the "back-up" Extra in the air.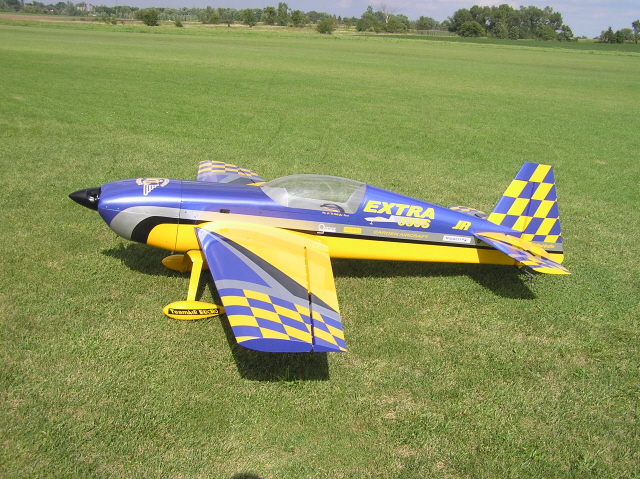 It's 2 pounds lighter and flies even better than my primary Extra! All went well, so I thought I'd share these photos with you and Caroline. My primary Extra is now for sale and as soon as the airframe is sold, I'll be calling to order a 40% Extra 300 Midwing.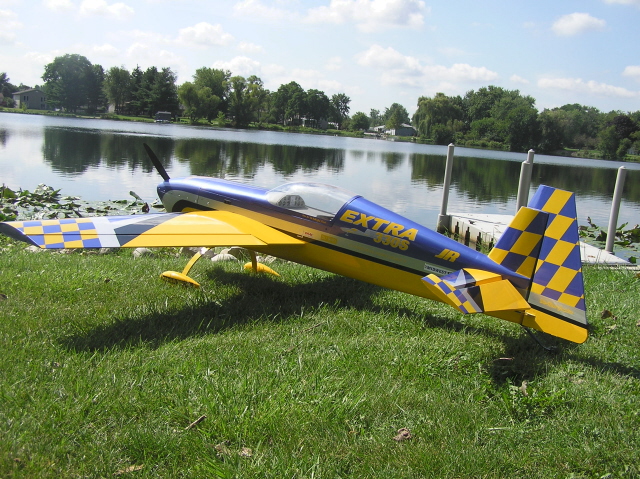 Feel free to post these pictures on your web-site.
---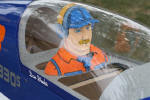 September 13th, 2007
Caroline and Dennis

Finally! Attached are a couple of photos of my Carden Extra. I now know what all the hoopla is about-I love it!
Maiden flight was on a gusting, windy day so I put in a couple of clicks of right aileron and one click of up elevator to trim. As the wind changed, I took the trim out. I now fly it with no trim and no mixes.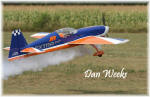 I can knife-edge it in figure 8's all day long, do whatever I want at anytime and it just tracks true. Torque rolls, rolling harriers, flat spins--it's all good.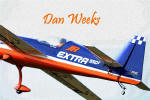 My DR-109 friend Wayne Norris and I built the components, and my Carden-friend Jimmy DeWinter put it all together, covered and painted it. Jimmy did a fantastic job! It weighs 28 pounds, DA100, JR 10X, Smart-Fly EQ10, Hitec and JR servos, Duralite.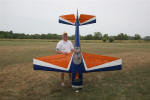 You've heard this lots of times, but you guys deserve it all-thanks for a great product.
Dan Weeks
---
---
May 12th, 2007
Hello Caroline, Sending you a few pics of my 35% 330S.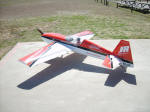 My thanks to Steve Stremba for the idea on colors.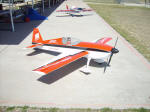 Thanks Again
Al Mason
Fort Worth, Texas

---
---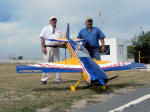 March 13th, 2007
Hola Carolina and Dennis!!!
A New Carden Extra 330S 35% in Guadalajara!!!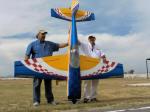 The Happy owner is Arturo Galarza a friend of mine...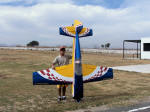 This airplane was constructed by me and decorated by Arturo, is beautiful and as I always do not need any type adjustments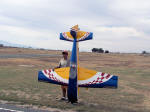 Saludos,
Javier
---
---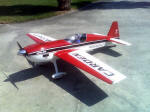 November 13th, 2006
Hello Dennis and Caroline

Hope this e-mall finds you both doing well. I'm sending along a picture of my latest Carden plane, my 35% Extra 330S. It was built and set up by Mike Vasellero and covered and painted by Gary Hildebrandt. I've been flying it about 4 months (sorry for being so slow to get a picture out) and it's a hoot! Flies like it's on rails (within my capabilities of course!) My Carden 40% Extra 260 is on it's way so that has me looking forward to the 2007 IMAC season.

Best Regards, Mike Remsberg
Saint Cloud, FL
---
---
October 27, 2006
Dennis and Caroline
Just a note to let you know my 35 % Extra 330S is complete. Here are a few pictures of my plane. Test flown today and flies marvelous. No aileron, trim, no rudder trim, 2 clicks of down elevator. Tracks like it was on rails.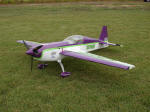 Once again Thank you so much for such a high quality kit. Looking forward to the next one
One happy customer, Darrell Smith
---
---
September 27, 2006
Dennis and Caroline
Attached find photo of my 35% "Chapman Extra" built by Brian Hueffmeier a while ago
I finally got around to maiden flight at end of August (if you recall, I believe I was first one on your order list...so what is that..5 years?)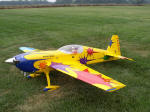 10 Flights on plane, still dialing it in, but I am really happy with the outcome. And the job that Brian did is outstanding...draws a lot of attention.
Thanks, Ira Klein
---
---
August 22, 2006
Dennis and Caroline
Here are a couple of pics of my 35% Extra 330S

Terrence Russell
Fort Lauderdale, FL
---
---
May 31st, 2006
Sent: Monday, January 30, 2006
Subject: 35% Carden Extra Pictures
Hi ,Caroline and Dennis, I finally finished my 35% Extra 330, This is my 3rd Carden, and the best plane I have flown to date. It took me a while, had to fit building in with a bunch of other projects and work. It came out really nice ,
I used Monokote covering, and used Brian Zang's (Aerographix) basic scheme, with the colors changed around a bit. Brian cut all the awesome graphics for me. Everyone at my club field loves it. I have all JR Radio equipment, SWB servo tray and horns, Emcotec mini power interface ,Powered by a DA-100, with MTW canisters in the plane, Biela 3 blade carbon prop.
My wife surprised me with a full set of matching Wing and Tail bags by Caroline. They are great. I got my first flight in, at the end of October,
The engine started right up and I taxied out and was airborne. One click of up trim, no other changes. What a great flying plane !!. It does everything well. The rolls were like it was on a rope. This plane lands like a trainer, no bad habits at all.
I am really impressed with the quality and flying characteristics of Carden planes.
Thanks for a great product, Jack George.
---
---
May 31st, 2006
Dennis and Caroline,
Finally finished my 35% Extra and thought you might like a picture. On the first flight I did almost my entire freestyle routine! NO TRIM changes of any kind so far. I think Iím in love with this bird. The D&B 120 is a great match for this plane with unlimited Ĺ throttle verticals. 5 flights and it fits me like an old shoe. Thanks for a great kit!!!
Kraig Krumm
Canton, Ohio
---
---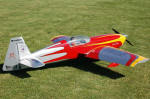 February 8th, 2006
Denis and Caroline,
Jason Miracle
---
---
November 14, 2005
Denis and Caroline,
My name is Piotr. Finally I decided to send you photos of my 35% Extra 330S.
This is my fifth Carden airplane.
It has DA-100 and JR servos: 4-8611's, 4-2721's, and 1-4721 for throttle. In my airplane I used 2 receivers and two 1700 Ni-Cad batteries. I have 20 flights on it now and it flies great.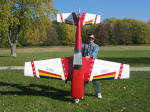 Now, I am working on my next project Carden-CUDA and already thinking about future one from Carden.
Thanks, Piotr Niedoba
---
---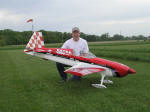 October 12, 2005
Denis and Caroline,

Visited your site early this morning and was pleasantly surprised to see me and my Extra! For precision aerobatics - absolutely nothing beats a Carden!

Everything I was ever told about how well your products perform was ABSOLUTELY TRUE!
Thanks for creating such a great design
Your friend,
Ed Rogala, The "Hobby Guy"
IMAC 1694
PS: I lost this model early in the season and really miss it. My new one is almost done and I can't wait to fly it again. Thanks for the great service when I needed a fuselage kit- great support from a great company!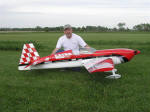 ---
---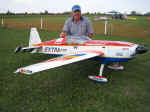 September 26, 2005
Denis and Caroline,
This pic is at the IMAC Chapter 401 Ontario Season finals, 2005
2005 IMAC Chapter 401 Sportsman Champion
2005 IMAC North Central Region Sportsman 2nd place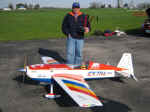 At the 2005 IMAC North Central Region flying and Judging Seminar in Muncie Indiana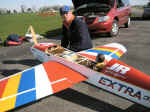 Another pic from the seminar
thanks, Kevin Rienhart
Kitchener, Ontario Canada
---
---
August 24, 2005
Denis and Caroline,

Here is a photo of our finished Carden. What a fine Kit and a great plane. We can't wait to build another one. Maybe a 40%
Jeff and Lucy Fisher
---
---
August 24, 2005
Denis and Caroline,

Hey guys, just thought I'd show off my new baby. You may remember this one from Toledo.
Still fine tuning it, but I love the way it tumbles (among other things).
3D is very stable. Pattern is awesome.
Can't wait to wring it out
Regards, Terry Hahn
---
---
August 24, 2005
Denis and Caroline,
I'm finally about ready to fly my 35% Extra. I thought I'd send you a couple of photos of it. Just need to add the batteries & receivers and finish the radio set up. I really enjoyed this project. Your approach to the airframe design makes the building very straightforward. I'm pleased with the way this one turned out.
I've got a DA 100 on MTW canisters for power. I used JR 8611's on the elevators and two on the rudder. The ailerons have two Futaba 9206 servos.
Can't wait to fly it!!!
Thanks again for all of your help along the way,
Don Koonce
---
---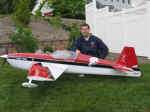 August 2, 2005
Caroline,
Pictures of my 35% Extra
I'm still looking for someone in my area with enough experience willing to maiden it for me. I want that person to look it over good before the first time up.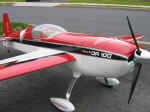 I hope all is well with you and Dennis.

take care, Steve Stremba