Carden Aircraft
35% Edge 540 Gallery 1

Terry Boston, Dennis Gergits, Jason Danhakl, Bill Cline and myself

Back row - Joey Hamilton, Mike Sauls, Matt Steck, Blaine Austin, Jason Danhakl, Pete Rosa, Jeff Newman,
Front row - Frank Noll Jr. and the new 35% Edge 540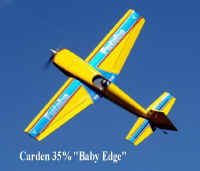 Photos above courtesy Darlene Cline
---
A Report from Frank Noll Jr.
Everybody scrambled to get the new "Baby Edge" ready to take to Lebanon Tennessee to the Poplar Hill Fly-In, sponsored by Jeff and Fran Newman. (btw) If you really want to have some fun, and be around genuinely good people, this event is one not to miss. We arrived early at the field on Sat. morn, to find overcast skies and high winds, probably in the 25 - 30 mph range. The engine had never been fired, and it went off right away. With just a minor tweaking on the carb, I felt comfortable enough to go with it. The CG was checked and the airplane was weighed prior to this (26.75 lbs.).
Photos below from Caroline Gergits
I taxied out and let it rip, It jumped into the air faster than I would have expected, and it was away.
It took 1 beep of left aileron trim, and that was it. So typical of Terry's building...

I put it through a few verticals and horizontal lines, and it took no special mixing or trimming. Keep in mind that I was using the same program that I use for my 40% Edge. I put it in knife edge to see if if needed any rudder / elevator mix and it pitched slightly to the belly.

I proceeded to put a little more mix into it and it got worse. I then realized that the 3% and 5% mix I had on the 40% was not needed on this one at all. I ended up at 0% mix on the elevator and 4% on aileron. I'll take that any day of the week.

As far as performance, the plane/engine combo has given me a power to weight ratio like never before. I can only imagine the stuff I'll be able to get away with with some more time on them.

Frank Noll Jr.
---
For those of you who currently have 40% Edge's, imagine having the same plane, only 10 lbs. lighter!!! For those of you who are looking for a 35%, this is a good one, with no bad tendencies on either end of the flight envelope.
I would suggest getting on the list for one of these babies!!
---
Frank carries the Baby Edge into center stage
Blaine Austin pushes his 40% Edge back to the pits as Frank hovers the new 35% "Baby Edge"
Frank with Terry Boston and the 40% Extra 330S.
We want to express our deepest appreciation for Terry who is our Carden Aircraft professional builder. He builds all the new planes for Frank to test fly.

Dennis DOES fly !!
Mike Sauls
Frank and the Baby Edge
Call Carden Aircraft at 423-295-2295
12/30/09